Welcome To

Stevenson Middle School
Mission Statement & Points of Pride
Mission Statement
Stevenson Middle School is a place of meaningful relationships and mutual respect where every student experiences growth and takes responsibility for their learning, while growing one leader at a time.
Motto:
Leadership is doing what is right even when no one else is watching.
---
Points of Pride
The percentage of special education students making gains on this years NWEA were 63% in math, 81% in reading, 82% in Language Usage, and 79% in Science under the new special education program implemented and developed at Stevenson this year.
Discipline ODRs decreased by over 50% from last year to this due to numerous interventions in the classroom, restorative practices, and a focus on creating a positive climate and culture.
In a new social studies pilot class, at risk students raised NWEA scores up to 61 points in Reading due to a focus on implementing the curriculum with instructional strategies centered around improving reading skills.
The Stevenson store was developed and implemented through a pilot program in math that incorporated the core standards through the creation, development, implementation, and management of a school store.
30 students competed in the State History Day. One of our 7th-grade winners has her exhibit displayed in the Yankee Air Museum.
District Spelling Bee Champs!!!!
Battle of the Books Champions!!!
Every student who attended Solo & Ensemble medaled with a first or second division.
National Junior Honor Society students raised over $5000 for charities this year.
The Cost of Educating a Student
Tuesday, October 23rd - State of the District
We're having our annual State of the District event on October 23, 2018 at John Glenn Auditorium (36105 Marquette, Westland MI) at 6:30pm (doors open at 6pm for gallery walk)
Friday, October 26th - 8th Annual Spooktacular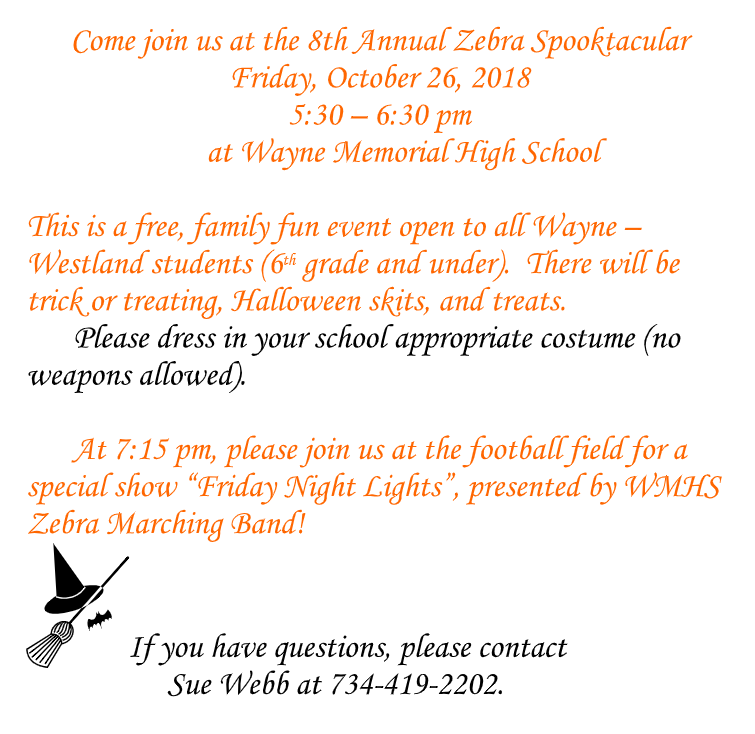 This event takes place at
Wayne Memorial High School
3001 Fourth Street
Wayne, MI 48184
Phone: 734-419-2200
What time? 5:30 pm to 6:30 pm
This is a FREE family fun event open to all Wayne-Westland students (6th Grade and under). There will be trick or treating, Halloween skits, and treats. Dress appropriately!
At 7:15 pm, please join us at the football field for a special show "Friday Night Lights," presented by WMHS Zebra Marching Band!
October 19, 2018
Pink Out for National Junior Society
Every year for the past 6 years National Junior Honor Society has had a Pink Out at Stevenson Middle School. We sell bracelets, stickers, pencils, pens, and bookmarks. Our goal is to raise $200.00 each year that we can donate to the Karmanos Cancer Foundation. in Detroit. The students and staff participate by wearing as much pink as they possibly can, some even dye their hair pink for the day. Today was no different, everyone came dressed in pink. It was amazing. 
October 1, 2018
FREE Breakfast and Lunch for ALL K-12 Students!
Great News- FREE Breakfast and Lunch for ALL K-12 students!
Beginning Oct. 1, 2018, Wayne-Westland Community Schools will offer FREE breakfast and lunch to all K-12 students.
September 7, 2018
2018-19 Champions Fall Registration

With more than 25 years of experience, Champions is recognized for our leadership in delivering extended learning programs that are tailored specifically to a school's needs and that provide busy working parents with a safe, convenient program where their child's potential is fostered through engaging learning experiences. We were recently awarded the prestigious distinction of corporation accreditation by AdvancED, a global leader in advancing excellence in education through accreditation. 

Register today!
Attendance: 734-419-2370
Counseling: 734-419-2355
Student Hours: Full Day: 7:50 am - 2:40 pm
AM Half Day: 7:50 am - 11:00 am
Stevenson Calendar
Stevenson Calendar

‹

October

2018

›

S
M
T
W
T
F
S
1

Oct 1

4:00 PM to 5:00 PM

Volleyball @ Hillside

Stevenson Middle School

2
3

Oct 3

4:00 AM to 5:30 AM

Volleyball vs Frost

Stevenson Middle School

4:00 PM to 5:00 PM

Cross Country @ Holmes MS

Stevenson Middle School

4

Oct 4

6:00 PM to 7:00 PM

BOND Community Advisory Team Meeting

Stevenson Middle School

Our Community Advisory team includes:

1 parent from each school
1 staff member from each school
1 union rep from each school

Meetings will take place at the Dyer Senior Center, 36745 Marquette St, Westland, MI 48185

We hope to see you there and hear your thoughts!

5
6
7
8

Oct 8

1/2 Day; No PM Classes (Professional Development Day)

Stevenson Middle School

1/2 Day-Middle School Records Day

Stevenson Middle School

This event has a Google Hangouts video call. Join: https://plus.google.com/hangouts/_/wwcsd.net/1-2-day-middle?hceid=d3djc2QubmV0X3N1bXUydDRwbjNnM3NzdXE1aHVzdm81OTlvQGdyb3VwLmNhbGVuZGFyLmdvb2dsZS5jb20.70rhcijkis4qc2b5eqvvithl4c&hs=121

9

Oct 9

8:20 AM to 10:30 AM

Picture Retake

Stevenson Middle School

4:00 PM to 5:30 PM

Volleyball @ Holmes

Stevenson Middle School

6:00 PM to 7:00 PM

Bond Community Forum

Stevenson Middle School

Please come and share your thoughts as we discuss the upcoming bond.

David Hicks Elementary
100 Helen
Inkster, MI 48141

10

Oct 10

3:30 PM to 5:00 PM

Volleyball @ Franklin

Stevenson Middle School

11

Oct 11

4:00 PM to 5:00 PM

Cross Country @ Franklin (@ WMH)

Stevenson Middle School

6:00 PM to 7:00 PM

Bond Community Forum

Stevenson Middle School

Please come and share your thoughts as we discuss the upcoming bond.

Stevenson Middle School
38501 Palmer
Westland, MI 48186

12
13
14
15

Oct 15

4:00 PM to 5:30 PM

Volleyball vs Meads Mill

Stevenson Middle School

16
17

Oct 17

Cross Country Conference Meet @ Cass Benton Park

Stevenson Middle School

18

Oct 18

6:00 PM to 7:00 PM

BOND Community Advisory Team Meeting

Stevenson Middle School

Our Community Advisory team includes:

1 parent from each school
1 staff member from each school
1 union rep from each school

Meetings will take place at the Dyer Senior Center, 36745 Marquette St, Westland, MI 48185

We hope to see you there and hear your thoughts!

19
20
21
22
23

Oct 23

Ok2Say Assembly

Stevenson Middle School

6:30 PM to 8:30 PM

State of the District

John Glenn High School Auditorium

Stevenson Middle School

Please join Dr. Holt and the Executive Cabinet as they present the 2018 State of the District Address at John Glenn Auditorium from 6:30 pm to 8:30 pm.

24
25

Oct 25

5:00 PM to 7:00 PM

Halloween Dance

Stevenson Middle School

26

Oct 26

5:30 PM to 6:30 PM

Spooktakular

Stevenson Middle School

This event takes place at Wayne Memorial High School from 5:30pm to 6:30pm

This is a FREE family fun event open to all Wayne-Westland students (6th Grade and under). There will be trick or treating, Halloween skits, and treats. Dress appropriately!

At 7:15pm, please join us at the football field for a special show "Friday Night Lights," presented by WMHS Zebra Marching Band!

27
28
29
30
31