Welcome To

Wayne Memorial High School
Wayne Memorial Resources
Student Hours: Full Day: 7:10 am - 2:00 pm
AM Half Day: 7:10 am - 10:20 am

Transportation Bus Routes - Wayne Memorial


First Weeks of School Handbook


District Handbook


Code of Conduct


High School Points of Pride


Wayne Memorial Student Planner


School Improvement Plan


Make a Payment Online


OK2SAY Program


Request Transcript


Annual Education Reports


Technology Loan Agreement
Mission Statement
Success is the only option for our students. We have Wayne Pride!
The Cost of Educating a Student
WMHS Hosts Marching Band Clinic on Saturday!
If you are in the area, we'd love to see you at our annual Wayne Memorial High Marching Band Clinic this Saturday! We'll be hosting 12 bands from around the Metro Detroit area, including John Glenn, all 3 Livonia Schools, Dearborn Crestwood, South Lake, Troy, Edsel Ford, Blissfield, Gilbraltar Carlson, Goodrich, and the WMHS Zebra Marching Band. It begins with JG at 9:20am and ends with Goodrich at 5:20pm. The Zebra Marching Band performs at 2pm. All bands perform for judging, then spend a few minutes on the field with the judges learning and discussing their performance.
 
Tickets are $5. Concessions including Kona Ice will be available. Event t-shirts for sale while supplies last or buy a "Shout Out" to your favorite band or your student.

See you Saturday!
June 2, 2018
Congratulations Graduates of 2018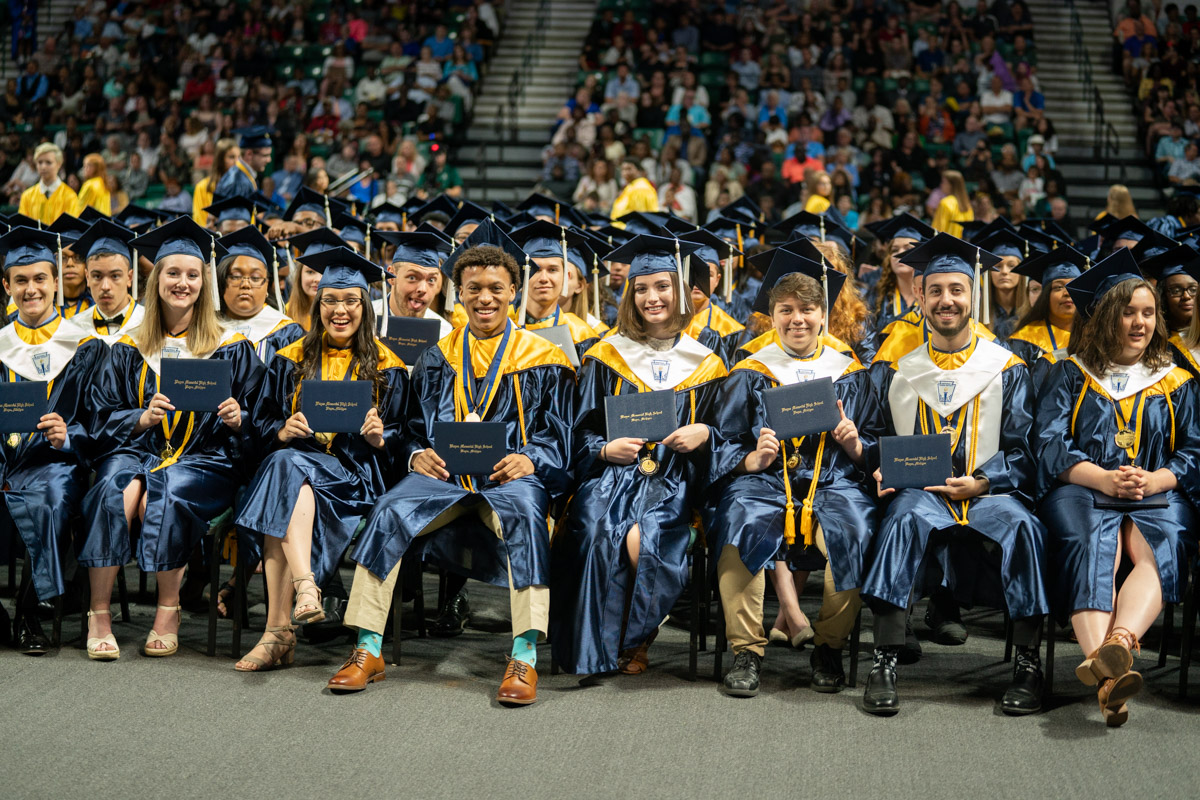 View all images from this years 2018 graduation ceremony. Go Zebras!
June 1, 2018
Distinguished Alumni and Volunteer Award

View all images from this event
Distinguished Alumni: Antoine McKay
Parent Volunteer: Theresa Hernandez
Enroll Today
Attendance: 734-419-2207
Wayne Calendar
Wayne Calendar

‹

September

2018

›

S
M
T
W
T
F
S
1

Sep 1

Testing Out Window

Wayne Memorial High School

Labor Day/No School

Wayne Memorial High School

2

Sep 2

Testing Out Window

Wayne Memorial High School

Labor Day/No School

Wayne Memorial High School

3

Sep 3

Testing Out Window

Wayne Memorial High School

Labor Day/No School

Wayne Memorial High School

4

Sep 4

Testing Out Window

Wayne Memorial High School

5
6
7
8
9
10

Sep 10

ZPAC Meeting; 5:45pm

Wayne Memorial High School

11
12

Sep 12

School Pictures Day 1

Wayne Memorial High School

13

Sep 13

School Pictures Day 2

Wayne Memorial High School

6:00 PM to 7:00 PM

BOND Community Advisory Team Meeting

Wayne Memorial High School

Our Community Advisory team includes:

1 parent from each school
1 staff member from each school
1 union rep from each school

Meetings will take place at the Dyer Senior Center, 36745 Marquette St, Westland, MI 48185

We hope to see you there and hear your thoughts!

14
15

Sep 15

Marching Band Clinic

Wayne Memorial High School

16
17
18
19
20
21
22
23
24

Sep 24

Homecoming Ticket Sale Window; ALL Lunches

Wayne Memorial High School

25

Sep 25

Homecoming Ticket Sale Window; ALL Lunches

Wayne Memorial High School

26

Sep 26

Homecoming Ticket Sale Window; ALL Lunches

Wayne Memorial High School

27

Sep 27

Homecoming Ticket Sale Window; ALL Lunches

Wayne Memorial High School

Fund Your Future(Financial Aid Night)6pm

Wayne Memorial High School

Senior Parent Night, 6pm

Wayne Memorial High School

6:00 PM to 7:00 PM

BOND Community Advisory Team Meeting

Wayne Memorial High School

Our Community Advisory team includes:

1 parent from each school
1 staff member from each school
1 union rep from each school

Meetings will take place at the Dyer Senior Center, 36745 Marquette St, Westland, MI 48185

We hope to see you there and hear your thoughts!

28

Sep 28

Homecoming Ticket Sale Window; ALL Lunches

Wayne Memorial High School

29

Sep 29

Homecoming Ticket Sale Window; ALL Lunches

Wayne Memorial High School

Progress Report - Grades updated - check Parent Connect

Wayne Memorial High School

30

Sep 30

Homecoming Ticket Sale Window; ALL Lunches

Wayne Memorial High School