Welcome To

Wayne Memorial High School
Wayne Memorial Resources
Student Hours: Full Day: 7:10 am - 2:00 pm
AM Half Day: 7:10 am - 10:20 am

Transportation Bus Routes - Wayne Memorial


First Weeks of School Handbook


District Handbook


Code of Conduct


High School Points of Pride


Wayne Memorial Student Planner


School Improvement Plan


Make a Payment Online


OK2SAY Program


Request Transcript


Annual Education Reports


Technology Loan Agreement
Mission Statement
Success is the only option for our students. We have Wayne Pride!
The Cost of Educating a Student
Tuesday, October 23rd - State of the District
We're having our annual State of the District event on October 23, 2018 at John Glenn Auditorium (36105 Marquette, Westland MI) at 6:30pm (doors open at 6pm for gallery walk)
Friday, October 26th - 8th Annual Spooktacular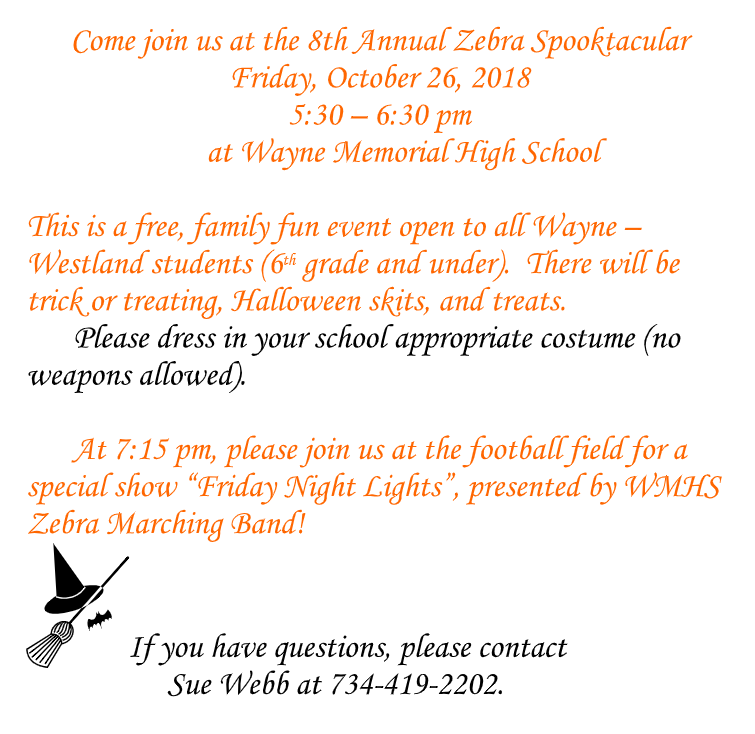 This event takes place at
Wayne Memorial High School
3001 Fourth Street
Wayne, MI 48184
Phone: 734-419-2200
What time? 5:30 pm to 6:30 pm
This is a FREE family fun event open to all Wayne-Westland students (6th Grade and under). There will be trick or treating, Halloween skits, and treats. Dress appropriately!
At 7:15 pm, please join us at the football field for a special show "Friday Night Lights," presented by WMHS Zebra Marching Band!
October 17, 2018
College Application Day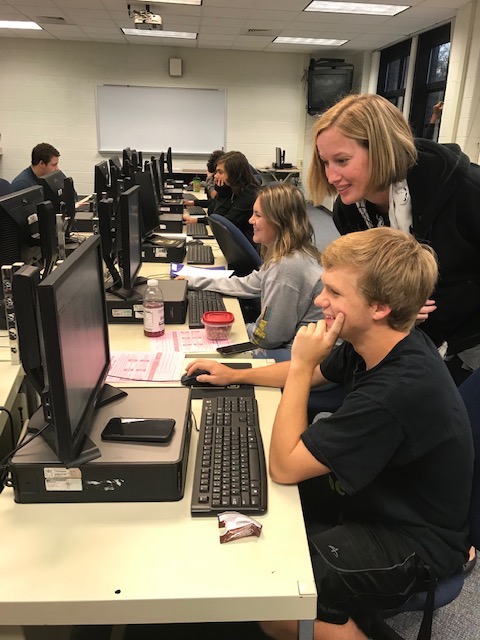 Seniors at Wayne Memorial High School participated in College Application Day on Oct. 17, 2018 by completing applications for colleges of their choice.

View more images here
October 16, 2018
Congrats Zebra Marching Band - Click to Vote!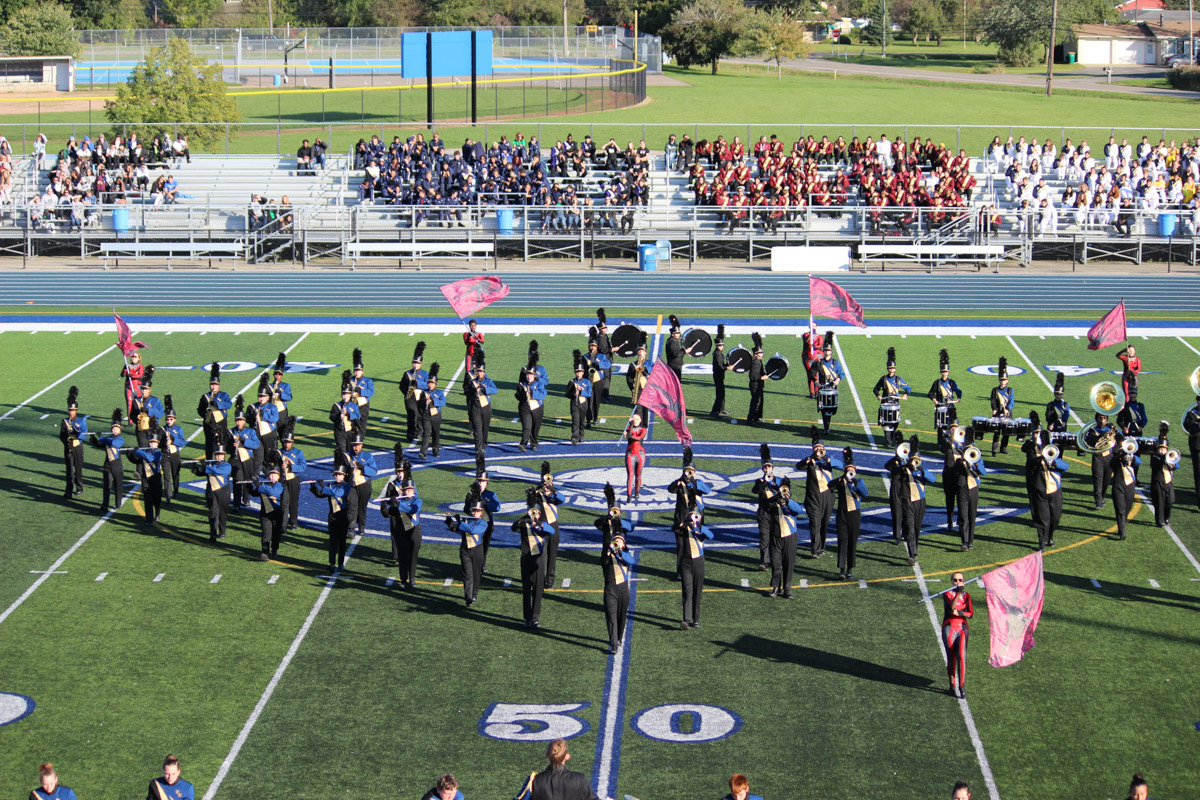 Congratulations to members of the Zebra Marching Band for a great performance last Saturday at the DeWitt HS Competition and for being awarded 2nd Place in Class A and 3rd out of 13 total bands!
Please take a moment and vote for the Zebra Marching Band in WDIV's Best Marching Band Contest! The band is in the Top Ten. Let's get them to #1
https://www.clickondetroit.com/4frenzy/best-marching-band-voting-ends-this-sunday#/gallery/
October 12, 2018
John Glenn vs Wayne Memorial High School Homecoming game for JGHS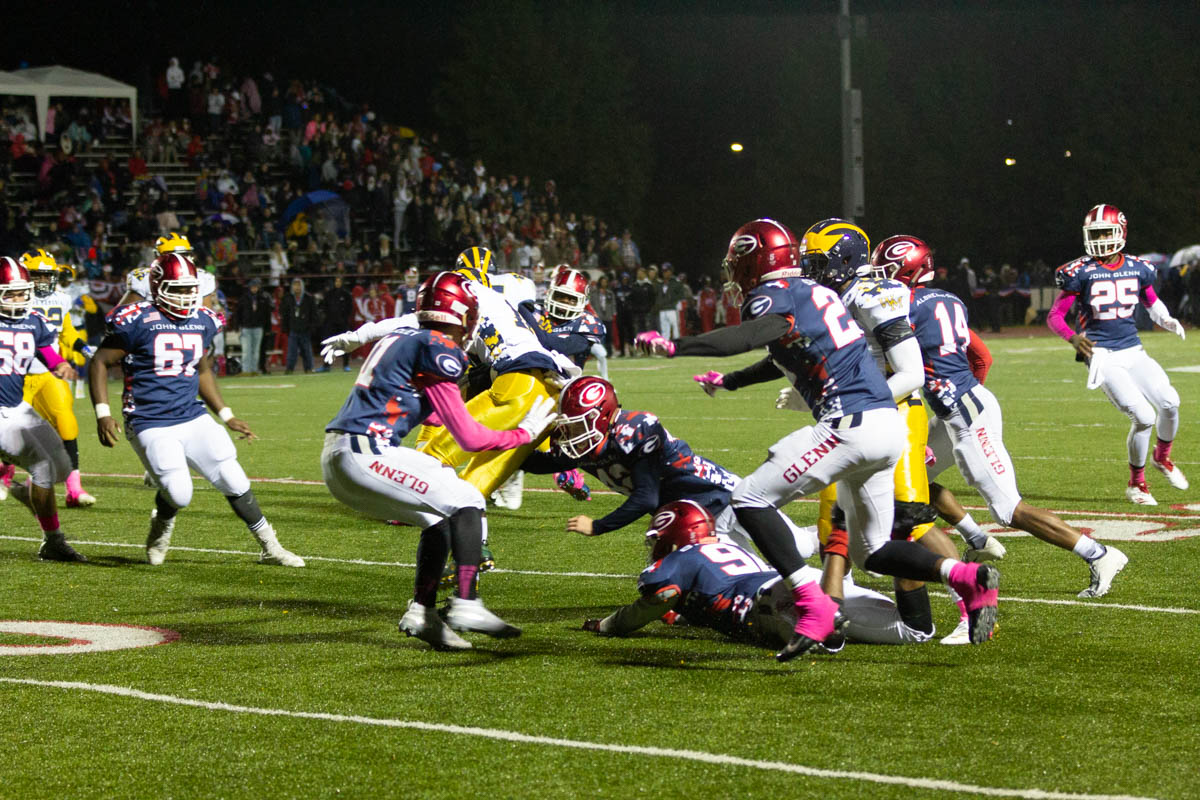 View all images from this event
The Wayne Memorial vs. John Glenn football game this Friday, October 12th, was our first Military Appreciation game. We would like to thank our veterans for all they have done. Thank you!
Enroll Today
Attendance: 734-419-2207
Wayne Calendar
Wayne Calendar

‹

October

2018

›

S
M
T
W
T
F
S
1

Oct 1

Homecoming Ticket Sale Window; ALL Lunches

Wayne Memorial High School

ZPAC Meeting/Media Center

Wayne Memorial High School

2
3
4

Oct 4

Homecoming King/Queen Voting; 1st hr

Wayne Memorial High School

Homecoming Pep Assembly ; 5th hr

Wayne Memorial High School

6:00 PM to 7:00 PM

BOND Community Advisory Team Meeting

Wayne Memorial High School

Our Community Advisory team includes:

1 parent from each school
1 staff member from each school
1 union rep from each school

Meetings will take place at the Dyer Senior Center, 36745 Marquette St, Westland, MI 48185

We hope to see you there and hear your thoughts!

5

Oct 5

Homecoming Game; 7pm

Wayne Memorial High School

Homecoming Parade 5:45pm

Wayne Memorial High School

6

Oct 6

Homecoming Dance; 7:00pm

Wayne Memorial High School

7
8
9

Oct 9

6:00 PM to 7:00 PM

Bond Community Forum

Wayne Memorial High School

Please come and share your thoughts as we discuss the upcoming bond.

David Hicks Elementary
100 Helen
Inkster, MI 48141

10
11

Oct 11

6:00 PM to 7:00 PM

Bond Community Forum

Wayne Memorial High School

Please come and share your thoughts as we discuss the upcoming bond.

Stevenson Middle School
38501 Palmer
Westland, MI 48186

12
13
14
15
16

Oct 16

College Application Day

Wayne Memorial High School

17
18

Oct 18

6:00 PM to 7:00 PM

BOND Community Advisory Team Meeting

Wayne Memorial High School

Our Community Advisory team includes:

1 parent from each school
1 staff member from each school
1 union rep from each school

Meetings will take place at the Dyer Senior Center, 36745 Marquette St, Westland, MI 48185

We hope to see you there and hear your thoughts!

19
20
21
22
23

Oct 23

Instrumental Fall Concert; 7:00 pm

Wayne Memorial High School

6:30 PM to 8:30 PM

State of the District

John Glenn High School Auditorium

Wayne Memorial High School

Please join Dr. Holt and the Executive Cabinet as they present the 2018 State of the District Address at John Glenn Auditorium from 6:30 pm to 8:30 pm.

24

Oct 24

NHS Induction Ceremony; 6:30 Media Center

Wayne Memorial High School

25
26

Oct 26

Marching Band Community Friday Night Lights

Wayne Memorial High School

5:30 PM to 6:30 PM

Spooktakular

Wayne Memorial High School

This event takes place at Wayne Memorial High School from 5:30pm to 6:30pm

This is a FREE family fun event open to all Wayne-Westland students (6th Grade and under). There will be trick or treating, Halloween skits, and treats. Dress appropriately!

At 7:15pm, please join us at the football field for a special show "Friday Night Lights," presented by WMHS Zebra Marching Band!

27
28
29

Oct 29

Picture Retake Day (1st-5th hr)

Wayne Memorial High School

30
31