Welcome To

Schweitzer Elementary School
School Supply List

Classroom Supply List
Mission Statement & Points of Pride
Mission Statement
Bee...a leader
Belief Statement
We believe that...
All students can learn and succeed.
Children learn at different rates and in different ways.
Learning is an active process.
Learning takes place in a safe, orderly and secure environment.
A positive, supportive environment encourages successful learning.
Successful learning takes place when parents, teachers, support staff and students work together as partners.
Children learn best when teachers use the most effective instructional strategies.
---
Points of Pride
A Leader in Me School
Many Student Leadership Opportunities & Student Lighthouse Team
Adopted by the Westland Rotary
Positive Culture and Committed Staff
Strong Family Support through our Schweitzer Worker Bee Association
Bright Futures afterschool program
Afterschool enrichment opportunities such as Drama, Archery, Basketball, Floor Hockey
One of the top two highest usages for Compass Learning
Reading Intervention Program
Family Nights (Bingo for Books, Picnic, Science & Math Programs, Trunk or Treat, Holiday Night)
Student learning data monitored and shared with families through Leadership Notebooks and Leadership Day
The Cost of Educating a Student
Tuesday, October 23rd - State of the District
We're having our annual State of the District event on October 23, 2018 at John Glenn Auditorium (36105 Marquette, Westland MI) at 6:30pm (doors open at 6pm for gallery walk)
Friday, October 26th - 8th Annual Spooktacular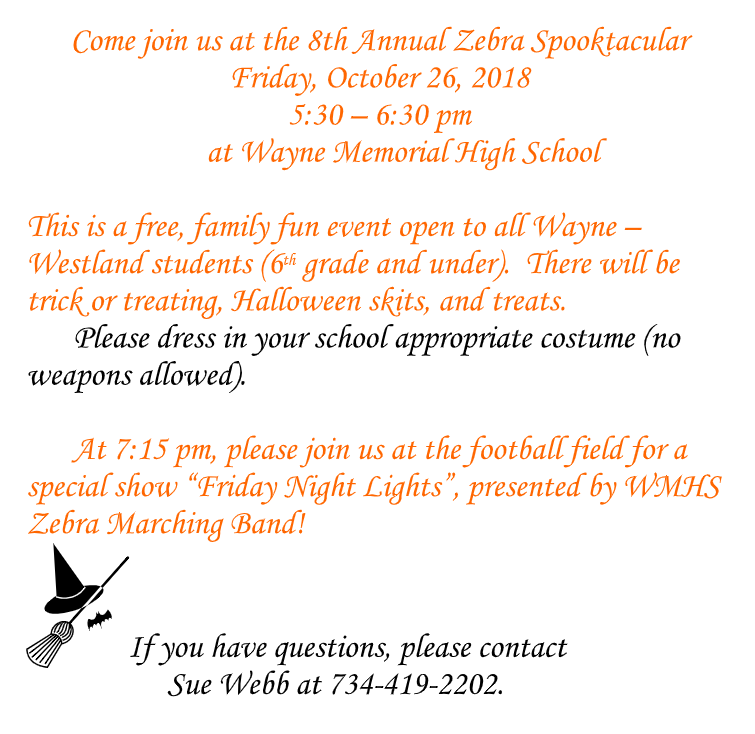 This event takes place at
Wayne Memorial High School
3001 Fourth Street
Wayne, MI 48184
Phone: 734-419-2200
What time? 5:30 pm to 6:30 pm
This is a FREE family fun event open to all Wayne-Westland students (6th Grade and under). There will be trick or treating, Halloween skits, and treats. Dress appropriately!
At 7:15 pm, please join us at the football field for a special show "Friday Night Lights," presented by WMHS Zebra Marching Band!
October 1, 2018
FREE Breakfast and Lunch for ALL K-12 Students!
Great News- FREE Breakfast and Lunch for ALL K-12 students!
Beginning Oct. 1, 2018, Wayne-Westland Community Schools will offer FREE breakfast and lunch to all K-12 students.
Attendance Line: 734-419-2757
Student Hours: Full Day: 8:30 am - 3:20 pm
AM Half Day: 8:30 am -11:40 am
Schweitzer Calendar
Schweitzer Calendar

‹

October

2018

›

S
M
T
W
T
F
S
1

Oct 1

Fundraiser-bring your teacher 25¢ & get a new pencil

Schweitzer Elementary School

2

Oct 2

Fundraiser-bring your teacher 25¢ & get a new pencil

Schweitzer Elementary School

Fundraiser Orders Due

Schweitzer Elementary School

9:00 AM to 10:30 AM

Griffin & Brown classes visit JGHS Planetarium

Schweitzer Elementary School

3

Oct 3

Fundraiser-bring your teacher 25¢ & get a new pencil

Schweitzer Elementary School

Official Count Day!

Schweitzer Elementary School

4

Oct 4

Fundraiser-bring your teacher 25¢ & get a new pencil

Schweitzer Elementary School

6:00 PM to 7:00 PM

BOND Community Advisory Team Meeting

Schweitzer Elementary School

Our Community Advisory team includes:

1 parent from each school
1 staff member from each school
1 union rep from each school

Meetings will take place at the Dyer Senior Center, 36745 Marquette St, Westland, MI 48185

We hope to see you there and hear your thoughts!

5

Oct 5

Fundraiser-bring your teacher 25¢ & get a new pencil

Schweitzer Elementary School

6
7
8

Oct 8

Fundraiser-bring your teacher 25¢ wear a hat @ school

Schweitzer Elementary School

9

Oct 9

Fundraiser-bring your teacher 25¢ wear a hat @ school

Schweitzer Elementary School

4:00 PM to 5:00 PM

SWBA Meeting In Library

Schweitzer Elementary School

6:00 PM to 7:00 PM

Bond Community Forum

Schweitzer Elementary School

Please come and share your thoughts as we discuss the upcoming bond.

David Hicks Elementary
100 Helen
Inkster, MI 48141

10

Oct 10

Fundraiser-bring your teacher 25¢ wear a hat @ school

Schweitzer Elementary School

11

Oct 11

Fundraiser-bring your teacher 25¢ wear a hat @ school

Schweitzer Elementary School

6:00 PM to 7:00 PM

Bond Community Forum

Schweitzer Elementary School

Please come and share your thoughts as we discuss the upcoming bond.

Stevenson Middle School
38501 Palmer
Westland, MI 48186

12

Oct 12

Fundraiser-bring your teacher 25¢ wear a hat @ school

Schweitzer Elementary School

9:30 AM to 1:00 PM

2nd Grade visits DeBucks Farm

Schweitzer Elementary School

9:30 AM to 1:00 PM

Kindergarten visits Real Life Farm

Schweitzer Elementary School

13
14
15

Oct 15

King Pancake serves lunch @ S chweitzer

Schweitzer Elementary School

Fundraiser-bring your teacher 25¢ & bring your favorite stuffed animal to school

Schweitzer Elementary School

16

Oct 16

Fundraiser-bring your teacher 25¢ & bring your favorite stuffed animal to school

Schweitzer Elementary School

17

Oct 17

Fundraiser-bring your teacher 25¢ & bring your favorite stuffed animal to school

Schweitzer Elementary School

18

Oct 18

Fundraiser-bring your teacher 25¢ & bring your favorite stuffed animal to school

Schweitzer Elementary School

6:00 PM to 7:00 PM

BOND Community Advisory Team Meeting

Schweitzer Elementary School

Our Community Advisory team includes:

1 parent from each school
1 staff member from each school
1 union rep from each school

Meetings will take place at the Dyer Senior Center, 36745 Marquette St, Westland, MI 48185

We hope to see you there and hear your thoughts!

19

Oct 19

Fundraiser-bring your teacher 25¢ & bring your favorite stuffed animal to school

Schweitzer Elementary School

8:00 AM to 8:30 AM

Watchdogs Informational Meeting

Schweitzer Elementary School

20
21
22

Oct 22

Fundraiser-bring your teacher 25¢ & style your hair in a crazy way

Schweitzer Elementary School

23

Oct 23

Fundraiser-bring your teacher 25¢ & style your hair in a crazy way

Schweitzer Elementary School

6:30 PM to 8:30 PM

State of the District

John Glenn High School Auditorium

Schweitzer Elementary School

Please join Dr. Holt and the Executive Cabinet as they present the 2018 State of the District Address at John Glenn Auditorium from 6:30 pm to 8:30 pm.

24

Oct 24

Fundraiser-bring your teacher 25¢ & style your hair in a crazy way

Schweitzer Elementary School

25

Oct 25

Fundraiser-bring your teacher 25¢ & style your hair in a crazy way

Schweitzer Elementary School

6:00 PM to 7:30 PM

Trunk or Treat Fun Night

Schweitzer Elementary School

26

Oct 26

Fundraiser-bring your teacher 25¢ & style your hair in a crazy way

Schweitzer Elementary School

9:00 AM to 11:50 AM

1st Grade visits Marquis Theater

Schweitzer Elementary School

5:30 PM to 6:30 PM

Spooktakular

Schweitzer Elementary School

This event takes place at Wayne Memorial High School from 5:30pm to 6:30pm

This is a FREE family fun event open to all Wayne-Westland students (6th Grade and under). There will be trick or treating, Halloween skits, and treats. Dress appropriately!

At 7:15pm, please join us at the football field for a special show "Friday Night Lights," presented by WMHS Zebra Marching Band!

27
28
29

Oct 29

Fundraiser-bring your teacher 25¢ & wear your slippers @ school

Schweitzer Elementary School

9:00 AM to 1:00 PM

Kindergarten visits Ford Community & Performing Arts

Schweitzer Elementary School

30

Oct 30

Fundraiser-bring your teacher 25¢ & wear your slippers @ school

Schweitzer Elementary School

Picture Retake Day

Schweitzer Elementary School

31

Oct 31

Fundraiser-bring your teacher 25¢ & wear your slippers @ school

Schweitzer Elementary School

8:30 AM to 11:40 AM

1/2 day of school-students attend a.m.

Schweitzer Elementary School

11:00 AM to 11:40 AM

Halloween Parade

Schweitzer Elementary School