Welcome To

Edison Elementary School
Edison Resources

Bus Transportation Routes - Edison


First Weeks of School Handbook


District Handbook


Code of Conduct​


Elementary Points of Pride


School Supply List


Parent & Student Handbook


Field Trip Permission Form


Territory Map


Report Card Standards


School Improvement Plan


2017 Annual Education Report
Mission Statement & Points of Pride
Mission Statement
Students will be empowered to achieve their goals through lifelong learning and leading.
Belief Statement
We believe that all students can learn in a safe, caring, responsible, positive, and respectful environment. We also believe that parent support at home with homework and practice is important to a child's school success and that teachers' utilization of research-based teaching practices will engage all students to achieve their personal best.
Vision Statement
To empower students to be lifelong leaders and learners.
Points of Pride
Students collected and sorted 1500 pounds of bottle caps thus earning the school 3 Buddy Benches for their playgrounds.
Edison uses Class Dojo Schoolwide to record PBIS data and send out great information items and at have 95% of parents signed up and watching their kids learn.
Students on the Stage - Edison students performed in WWCSD Children's Theatre Production of Aladdin and Wayne Memorial High School production of Seussical.
Fully student-led news crew that records the daily announcements.
Reduced Office Referral totals by half from in two years
Community partnerships with Grace Worship Center, Community Financial, Aubrees, the Grangers, and the Masons among others.
Active and supportive PTO
The Cost of Educating a Student
Tuesday, October 23rd - State of the District
We're having our annual State of the District event on October 23, 2018 at John Glenn Auditorium (36105 Marquette, Westland MI) at 6:30pm (doors open at 6pm for gallery walk)
Friday, October 26th - 8th Annual Spooktacular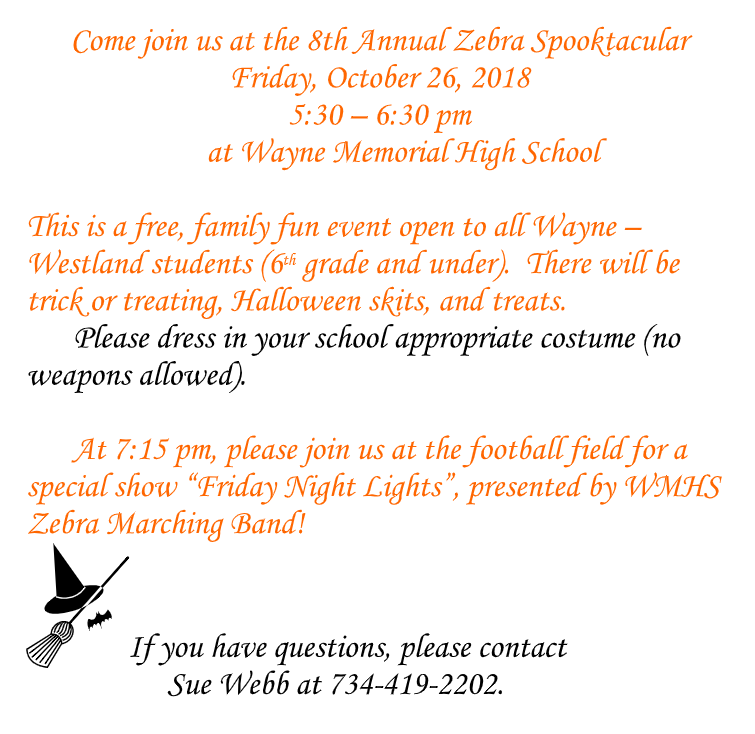 This event takes place at
Wayne Memorial High School
3001 Fourth Street
Wayne, MI 48184
Phone: 734-419-2200
What time? 5:30 pm to 6:30 pm
This is a FREE family fun event open to all Wayne-Westland students (6th Grade and under). There will be trick or treating, Halloween skits, and treats. Dress appropriately!
At 7:15 pm, please join us at the football field for a special show "Friday Night Lights," presented by WMHS Zebra Marching Band!
October 11, 2018
Edison Eagle Fun Run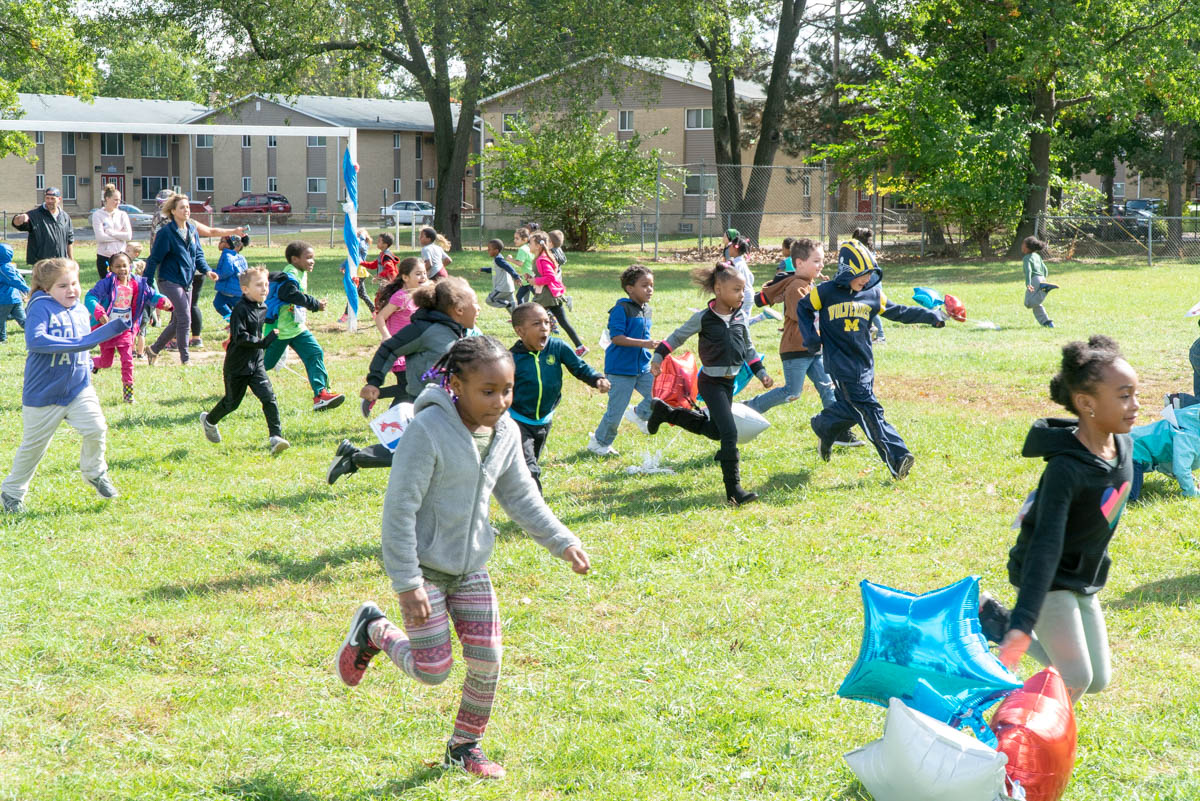 The Edison Eagle Fun Run is the primary fundraiser of the year for Edison.  Students collected pledges from friends and family and then participated in a 1/2 run around the Edison track.  Students earned a bracelet for each lap run and a medal for finishing the run in addition to any prizes won through the collection of donations.  Proceeds from the Fun Run are used by the Edison PTO to pay for class trips, materials, books, and activities throughout the year at Edison.

View all images from this event!
October 1, 2018
FREE Breakfast and Lunch for ALL K-12 Students!
Great News- FREE Breakfast and Lunch for ALL K-12 students!
Beginning Oct. 1, 2018, Wayne-Westland Community Schools will offer FREE breakfast and lunch to all K-12 students.
Attendance Line: 734-419-2606
Student Hours: Full Day: 9:00 am - 3:50 pm
AM Half Day: 9:00 am -12:10 pm
Edison Calendar
Edison Calendar

‹

October

2018

›

S
M
T
W
T
F
S
1
2

Oct 2

6:00 PM to 7:00 PM

Bond Proposal Informational Meeting

Edison Elementary School, 34505 Hunter Ave, Westland, MI 48185, USA

Edison Elementary

3
4
5
6
7
8
9

Oct 9

King Pancake for Lunch

Edison Elementary

This event has a Google Hangouts video call. Join: https://hangouts.google.com/hangouts/_/wwcsd.net/drosted?hceid=d3djc2QubmV0X2k2dTQ0bjNhbjdxamZhcms5NGZmc250ZTY4QGdyb3VwLmNhbGVuZGFyLmdvb2dsZS5jb20.06hgt554ig5raa8c6jftgkng9d&hs=121

10
11

Oct 11

Eagle Run

Edison Elementary

1:00-1:25 - K 1:30-1:55 - 1st 2:00-2:25 - 2nd 2:30-2:55 - 3rd 3:00-3:25 - 4th This event has a Google Hangouts video call. Join: https://hangouts.google.com/hangouts/_/wwcsd.net/eagle-run?hceid=d3djc2QubmV0X2k2dTQ0bjNhbjdxamZhcms5NGZmc250ZTY4QGdyb3VwLmNhbGVuZGFyLmdvb2dsZS5jb20.lukq1mch1p6t68n5vv63k382go&hs=121

12

Oct 12

Fall Picture Day

Edison Elementary

This event has a Google Hangouts video call. Join: https://hangouts.google.com/hangouts/_/wwcsd.net/fall-picture?hceid=d3djc2QubmV0X2k2dTQ0bjNhbjdxamZhcms5NGZmc250ZTY4QGdyb3VwLmNhbGVuZGFyLmdvb2dsZS5jb20.0hr7jtd597gimjallpq1cjt438&hs=121

Mobile Dentist

Edison Elementary

This event has a Google Hangouts video call. Join: https://hangouts.google.com/hangouts/_/wwcsd.net/swansonc?hceid=d3djc2QubmV0X2k2dTQ0bjNhbjdxamZhcms5NGZmc250ZTY4QGdyb3VwLmNhbGVuZGFyLmdvb2dsZS5jb20.651unv9lc8s7qk6b4jiamc2st2&hs=121

13
14
15

Oct 15

Mobile Dentist

Edison Elementary

This event has a Google Hangouts video call. Join: https://hangouts.google.com/hangouts/_/wwcsd.net/swansonc?hceid=d3djc2QubmV0X2k2dTQ0bjNhbjdxamZhcms5NGZmc250ZTY4QGdyb3VwLmNhbGVuZGFyLmdvb2dsZS5jb20.3597vc3323g2b869kn40g85vai&hs=121

16

Oct 16

Mobile Dentist

Edison Elementary

This event has a Google Hangouts video call. Join: https://hangouts.google.com/hangouts/_/wwcsd.net/swansonc?hceid=d3djc2QubmV0X2k2dTQ0bjNhbjdxamZhcms5NGZmc250ZTY4QGdyb3VwLmNhbGVuZGFyLmdvb2dsZS5jb20.3597vc3323g2b869kn40g85vai&hs=121

4th Grade - Oakwoods Nature Center Field Trip

Edison Elementary

This event has a Google Hangouts video call. Join: https://hangouts.google.com/hangouts/_/wwcsd.net/swansonc?hceid=d3djc2QubmV0X2k2dTQ0bjNhbjdxamZhcms5NGZmc250ZTY4QGdyb3VwLmNhbGVuZGFyLmdvb2dsZS5jb20.53o96oca0qvl059rrrsg4bfiok&hs=121

17

Oct 17

Popcorn Day

Edison Elementary

This event has a Google Hangouts video call. Join: https://hangouts.google.com/hangouts/_/wwcsd.net/swansonc?hceid=d3djc2QubmV0X2k2dTQ0bjNhbjdxamZhcms5NGZmc250ZTY4QGdyb3VwLmNhbGVuZGFyLmdvb2dsZS5jb20.6h96kdi5gj2jij3edsrq5hj8qp&hs=121

18

Oct 18

6:00 PM to 8:00 PM

Edison Skate Night

Riverside Arena, 36635 Plymouth Rd, Livonia, MI 48150, USA

Edison Elementary

Come roller skate with us and support the Edison PTO. Admission is $7.50 and includes skate rental. Food Combo available - $3.00 for a soda and a slice of pizza. This event has a Google Hangouts video call. Join: https://hangouts.google.com/hangouts/_/wwcsd.net/swansonc?hceid=d3djc2QubmV0X2k2dTQ0bjNhbjdxamZhcms5NGZmc250ZTY4QGdyb3VwLmNhbGVuZGFyLmdvb2dsZS5jb20.5ojl9scj6m8g1s7sotlreois3f&hs=121

19
20
21
22

Oct 22

Scholastic Book Fair

Edison Elementary

This event has a Google Hangouts video call. Join: https://hangouts.google.com/hangouts/_/wwcsd.net/swansonc?hceid=d3djc2QubmV0X2k2dTQ0bjNhbjdxamZhcms5NGZmc250ZTY4QGdyb3VwLmNhbGVuZGFyLmdvb2dsZS5jb20.62duq68p06e0gmsjpp4i5u9o2p&hs=121

23

Oct 23

Scholastic Book Fair

Edison Elementary

This event has a Google Hangouts video call. Join: https://hangouts.google.com/hangouts/_/wwcsd.net/swansonc?hceid=d3djc2QubmV0X2k2dTQ0bjNhbjdxamZhcms5NGZmc250ZTY4QGdyb3VwLmNhbGVuZGFyLmdvb2dsZS5jb20.62duq68p06e0gmsjpp4i5u9o2p&hs=121

4:00 PM to 5:00 PM

PTO Meeting - Edison Library

Edison Elementary

This event has a Google Hangouts video call. Join: https://hangouts.google.com/hangouts/_/wwcsd.net/swansonc?hceid=d3djc2QubmV0X2k2dTQ0bjNhbjdxamZhcms5NGZmc250ZTY4QGdyb3VwLmNhbGVuZGFyLmdvb2dsZS5jb20.1j93kjmsqtedmpj1vu47398k3a&hs=121

6:30 PM to 8:30 PM

State of the District

John Glenn High School 36105 Marquette St

Edison Elementary

This event has a Google Hangouts video call. Join: https://hangouts.google.com/hangouts/_/wwcsd.net/state-of-the?hceid=d3djc2QubmV0X2k2dTQ0bjNhbjdxamZhcms5NGZmc250ZTY4QGdyb3VwLmNhbGVuZGFyLmdvb2dsZS5jb20.3v0afb8jhh7mc8hv3b90bt0o1s&hs=121

24

Oct 24

Scholastic Book Fair

Edison Elementary

This event has a Google Hangouts video call. Join: https://hangouts.google.com/hangouts/_/wwcsd.net/swansonc?hceid=d3djc2QubmV0X2k2dTQ0bjNhbjdxamZhcms5NGZmc250ZTY4QGdyb3VwLmNhbGVuZGFyLmdvb2dsZS5jb20.62duq68p06e0gmsjpp4i5u9o2p&hs=121

25

Oct 25

Scholastic Book Fair

Edison Elementary

This event has a Google Hangouts video call. Join: https://hangouts.google.com/hangouts/_/wwcsd.net/swansonc?hceid=d3djc2QubmV0X2k2dTQ0bjNhbjdxamZhcms5NGZmc250ZTY4QGdyb3VwLmNhbGVuZGFyLmdvb2dsZS5jb20.62duq68p06e0gmsjpp4i5u9o2p&hs=121

6:30 PM to 7:00 PM

4th Grade Concert

Edison Elementary

This event has a Google Hangouts video call. Join: https://hangouts.google.com/hangouts/_/wwcsd.net/swansonc?hceid=d3djc2QubmV0X2k2dTQ0bjNhbjdxamZhcms5NGZmc250ZTY4QGdyb3VwLmNhbGVuZGFyLmdvb2dsZS5jb20.7as7g61hnnqobgodv70vn4f5au&hs=121

7:00 PM to 7:30 PM

Trunk or Treat

Edison Elementary

This event has a Google Hangouts video call. Join: https://hangouts.google.com/hangouts/_/wwcsd.net/swansonc?hceid=d3djc2QubmV0X2k2dTQ0bjNhbjdxamZhcms5NGZmc250ZTY4QGdyb3VwLmNhbGVuZGFyLmdvb2dsZS5jb20.0lfd7854p7880p7dhcm596dc36&hs=121

26

Oct 26

Scholastic Book Fair

Edison Elementary

This event has a Google Hangouts video call. Join: https://hangouts.google.com/hangouts/_/wwcsd.net/swansonc?hceid=d3djc2QubmV0X2k2dTQ0bjNhbjdxamZhcms5NGZmc250ZTY4QGdyb3VwLmNhbGVuZGFyLmdvb2dsZS5jb20.62duq68p06e0gmsjpp4i5u9o2p&hs=121

27
28
29
30

Oct 30

Community Financial Student Credit Union Deposit Day

Edison Elementary

This event has a Google Hangouts video call. Join: https://hangouts.google.com/hangouts/_/wwcsd.net/swansonc?hceid=d3djc2QubmV0X2k2dTQ0bjNhbjdxamZhcms5NGZmc250ZTY4QGdyb3VwLmNhbGVuZGFyLmdvb2dsZS5jb20.132qhr3659vfd6gdgcvspi58am&hs=121

31

Oct 31

1/2 Day for Students; 12:10 Dismissal

Edison Elementary

This event has a Google Hangouts video call. Join: https://plus.google.com/hangouts/_/wwcsd.net/1-2-day-for?hceid=d3djc2QubmV0X2k2dTQ0bjNhbjdxamZhcms5NGZmc250ZTY4QGdyb3VwLmNhbGVuZGFyLmdvb2dsZS5jb20.iclal910g8u5kfcsbi5n5faids&hs=121
Edison Eagles Newsletter

View Archives