Welcome To

William D. Ford Career Technical Center
Mission Statement & Points of Pride
Mission Statement
We, the William D. Ford Career-Technical Center staff, will prepare our students with the knowledge, technological proficiency, and personal skills essential for success in an increasingly complex society.
Points of Pride
Annual School-Wide Writing Program
Anti-Bullying Policy Adopted
Student Mentorship Program
16 Community Outreach Programs/Events
11 Regional HOSA winners. 45 Regional HOSA finalists.
More than $165,000.00 awarded in Career Technical specific scholarships.
Four First Place winners in various Welding competitions.
IVD team took Best in Presentation at the Masters of Mobility competition
Three students recognized for the State of Michigan Breaking Traditions award, with one receiving the Merit Award for Excellence.
Sixth consecutive year as a Green School maintaining Evergreen status.
Cost of Educating a Student
2017 Registration Information

Learn more about our enrollment process
October 2, 2018
Tuesday, October 23rd - State of the District
We're having our annual State of the District event on October 23, 2018 at John Glenn Auditorium (36105 Marquette, Westland MI) at 6:30pm (doors open at 6pm for gallery walk)
September 25, 2018
Friday, October 26th - 8th Annual Spooktacular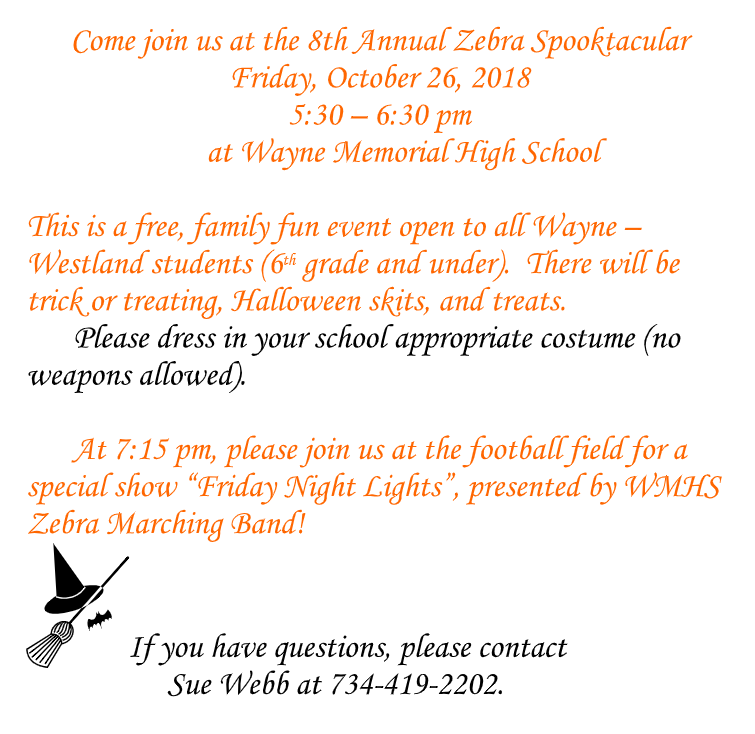 This event takes place at
Wayne Memorial High School
3001 Fourth Street
Wayne, MI 48184
Phone: 734-419-2200
What time? 5:30 pm to 6:30 pm
This is a FREE family fun event open to all Wayne-Westland students (6th Grade and under). There will be trick or treating, Halloween skits, and treats. Dress appropriately!
At 7:15 pm, please join us at the football field for a special show "Friday Night Lights," presented by WMHS Zebra Marching Band!
Student Hours: 7:25 am - 1:50 pm
Ford Career Tech Calendar
Ford Career Tech Calendar

‹

October

2018

›

S
M
T
W
T
F
S
1

Oct 1

7:30 AM to 1:30 PM

HOSA Induction of Officers

WDFCTC Commons

William D. Ford Career Technical Center

2
3

Oct 3

Official Count Day

WDFCTC

William D. Ford Career Technical Center

4

Oct 4

11:30 AM to 1:30 PM

Recycle Day

WDFCTC

William D. Ford Career Technical Center

6:00 PM to 7:00 PM

BOND Community Advisory Team Meeting

William D. Ford Career Technical Center

Our Community Advisory team includes:

1 parent from each school
1 staff member from each school
1 union rep from each school

Meetings will take place at the Dyer Senior Center, 36745 Marquette St, Westland, MI 48185

We hope to see you there and hear your thoughts!

5

Oct 5

5:00 PM to 9:00 PM

Wayne Memorial Homecoming Parade/Game

WMHS Football Field

William D. Ford Career Technical Center

6
7
8
9

Oct 9

6:00 PM to 7:00 PM

Bond Community Forum

William D. Ford Career Technical Center

Please come and share your thoughts as we discuss the upcoming bond.

David Hicks Elementary
100 Helen
Inkster, MI 48141

10
11

Oct 11

Recycle Day

WDFCTC

William D. Ford Career Technical Center

6:00 PM to 7:00 PM

Bond Community Forum

William D. Ford Career Technical Center

Please come and share your thoughts as we discuss the upcoming bond.

Stevenson Middle School
38501 Palmer
Westland, MI 48186

12

Oct 12

Belleville High School Homecoming

Belleville High School

William D. Ford Career Technical Center

13
14
15
16
17
18

Oct 18

11:30 AM to 1:30 PM

Recycle Day

WDFCTC

William D. Ford Career Technical Center

6:00 PM to 7:00 PM

BOND Community Advisory Team Meeting

William D. Ford Career Technical Center

Our Community Advisory team includes:

1 parent from each school
1 staff member from each school
1 union rep from each school

Meetings will take place at the Dyer Senior Center, 36745 Marquette St, Westland, MI 48185

We hope to see you there and hear your thoughts!

19

Oct 19

Administrator's Recognition Day

WDFCTC

William D. Ford Career Technical Center

Crestwood Homecoming

Crestwood High School

William D. Ford Career Technical Center

Sunshine & Rainbows to Pump-It-Up

Pump-It-Up

William D. Ford Career Technical Center

20
21
22
23

Oct 23

8:30 AM to 1:30 PM

WMHS 10th Graders Visit

WDFCTC

William D. Ford Career Technical Center

6:30 PM to 8:30 PM

State of the District

John Glenn High School Auditorium

William D. Ford Career Technical Center

Please join Dr. Holt and the Executive Cabinet as they present the 2018 State of the District Address at John Glenn Auditorium from 6:30 pm to 8:30 pm.

24

Oct 24

8:30 AM to 1:30 PM

WMHS 10th Graders Visit

WDFCTC

William D. Ford Career Technical Center

25

Oct 25

Recycle Day

WDFCTC

William D. Ford Career Technical Center

8:30 AM to 1:30 PM

WMHS 10th Graders Visit

WDFCTC

William D. Ford Career Technical Center

26

Oct 26

5:30 PM to 6:30 PM

Spooktakular

William D. Ford Career Technical Center

This event takes place at Wayne Memorial High School from 5:30pm to 6:30pm

This is a FREE family fun event open to all Wayne-Westland students (6th Grade and under). There will be trick or treating, Halloween skits, and treats. Dress appropriately!

At 7:15pm, please join us at the football field for a special show "Friday Night Lights," presented by WMHS Zebra Marching Band!

27
28
29
30

Oct 30

6:00 PM to 8:30 PM

Annual Advisory Dinnenr

WDFCTC Cafe' Marquette and Commons

By invitation

William D. Ford Career Technical Center

31

Oct 31

Happy Halloween!

WDFCTC

William D. Ford Career Technical Center

Sunshine & Rainbows Halloween Parades

Dyer Center and WDFCTC

William D. Ford Career Technical Center
Ford Career Tech Resources

First Weeks of School Handbook
​​​​​​​

District Handbook


Code of Conduct​


High School Point of Pride


School Improvement Plan


Core Performance Indicators


Map


Class Schedule