Welcome To

Walker-Winter Elementary School
Walker-Winter Resources

Transportation Bus Routes - Walker-Winter


First Weeks of School Handbook


District Handbook


Code of Conduct


Elementary Points of Pride


School Supply List


Family Handbook


Common Language Guidelines


Report Card Standards


Territory Map


School Improvement Plan


Annual Education Reports
Forms

Medial Authorization Form
School Supply Lists
School Supply List

Kindergarten (Copsey, Werth, Krafft )


1st Grade (DeRose, Valdahl)


1st Grade TAG (Krafft)


2nd Grade (Domagalski, Gantchar )


2nd Grade TAG (Kozaczynski )


3rd Grade (Cloke, Rachwitz )


3rd Grade TAG (Briese)


4th Grade (Bidne, Perkovich Weber)
Mission Statement & Points of Pride
Mission Statement
Walker celebrates doing our personal best, team spirit and learning for all.
Points of Pride
TAG program
Partnership with WMHS and our fundraiser Dolphin Dash (held at WMHS)
NWEA spring growth
K-Kids Service Learning
Dedicated staff
Twitter account #w_wdolphins and #goodnewscalloftheday
Watch D.O.G.S
Preschool Head Start Program
Lifelong Guidelines and Lifeskills
Partnership with Wayne State University's yearlong student teaching urban education program
The Cost of Educating a Student
Tuesday, October 23rd - State of the District
We're having our annual State of the District event on October 23, 2018 at John Glenn Auditorium (36105 Marquette, Westland MI) at 6:30pm (doors open at 6pm for gallery walk)
Friday, October 26th - 8th Annual Spooktacular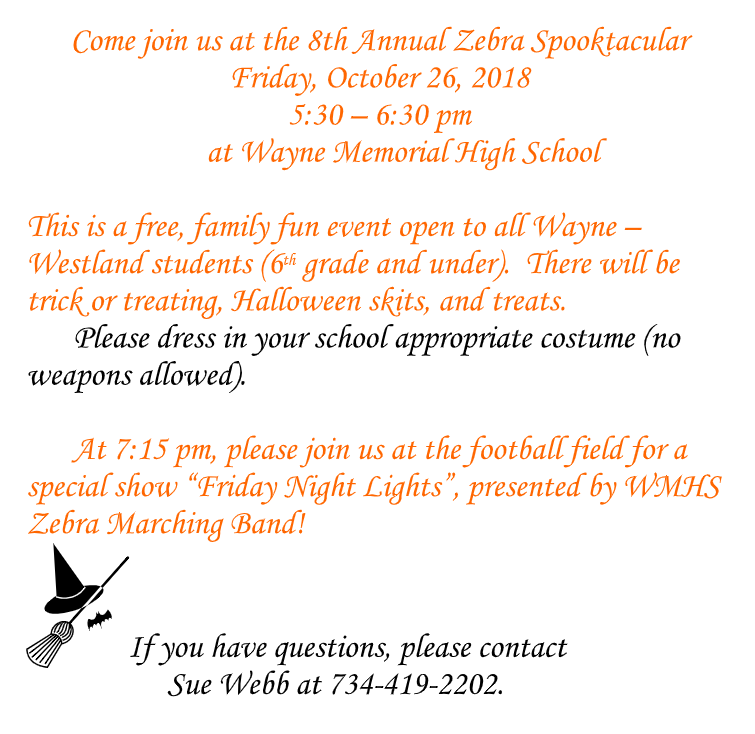 This event takes place at
Wayne Memorial High School
3001 Fourth Street
Wayne, MI 48184
Phone: 734-419-2200
What time? 5:30 pm to 6:30 pm
This is a FREE family fun event open to all Wayne-Westland students (6th Grade and under). There will be trick or treating, Halloween skits, and treats. Dress appropriately!
At 7:15 pm, please join us at the football field for a special show "Friday Night Lights," presented by WMHS Zebra Marching Band!
Attendance Line: 734-419-2787
Student Hours: Full Day: 9:00 am - 3:50 pm
AM Half Day: 9:00 am -12:10 pm
Follow Walker-Winter on Twitter!
To see updates and pictures of what's happening at school and to see the #GoodNewsCalloftheDay, follow Mrs. Mytych on Twitter @JulieMytych
Walker Calendar
Walker Calendar

‹

October

2018

›

S
M
T
W
T
F
S
1
2

Oct 2

1:15 PM to 2:15 PM

Hot Air Balloon by REMax, 1:15 PM

Walker-Winter Elementary

3

Oct 3

6:00 PM to 7:00 PM

K-Kids Induction

Walker-Winter Elementary

4

Oct 4

6:00 PM to 7:00 PM

BOND Community Advisory Team Meeting

Walker-Winter Elementary

Our Community Advisory team includes:

1 parent from each school
1 staff member from each school
1 union rep from each school

Meetings will take place at the Dyer Senior Center, 36745 Marquette St, Westland, MI 48185

We hope to see you there and hear your thoughts!

5

Oct 5

Popcorn Friday, 50 cents a bag

Walker-Winter Elementary

Spirit Day - Walker Wear!

Walker-Winter Elementary

6
7
8
9

Oct 9

Picture Day!

Walker-Winter Elementary

6:00 PM to 7:00 PM

Bond Community Forum

Walker-Winter Elementary

Please come and share your thoughts as we discuss the upcoming bond.

David Hicks Elementary
100 Helen
Inkster, MI 48141

6:00 PM to 7:00 PM

PTO Meeting

Walker-Winter Elementary

10
11

Oct 11

10:00 AM to 11:00 AM

Fire Department @ Walker, 1st grade

Walker-Winter Elementary

6:00 PM to 7:00 PM

Bond Community Forum

Walker-Winter Elementary

Please come and share your thoughts as we discuss the upcoming bond.

Stevenson Middle School
38501 Palmer
Westland, MI 48186

12
13
14
15
16
17
18

Oct 18

6:00 PM to 7:00 PM

BOND Community Advisory Team Meeting

Walker-Winter Elementary

Our Community Advisory team includes:

1 parent from each school
1 staff member from each school
1 union rep from each school

Meetings will take place at the Dyer Senior Center, 36745 Marquette St, Westland, MI 48185

We hope to see you there and hear your thoughts!

19

Oct 19

Spirit Day - MSU/U of M

Walker-Winter Elementary

6:00 PM to 8:00 PM

PTO Fall Festival

Walker-Winter Elementary

20
21
22
23

Oct 23

6:30 PM to 8:30 PM

State of the District

John Glenn High School Auditorium

Walker-Winter Elementary

Please join Dr. Holt and the Executive Cabinet as they present the 2018 State of the District Address at John Glenn Auditorium from 6:30 pm to 8:30 pm.

24
25
26

Oct 26

5:30 PM to 6:30 PM

Spooktakular

Walker-Winter Elementary

This event takes place at Wayne Memorial High School from 5:30pm to 6:30pm

This is a FREE family fun event open to all Wayne-Westland students (6th Grade and under). There will be trick or treating, Halloween skits, and treats. Dress appropriately!

At 7:15pm, please join us at the football field for a special show "Friday Night Lights," presented by WMHS Zebra Marching Band!

27
28
29
30

Oct 30

9:15 AM to 12:15 PM

2nd grades to DeBuck's

Walker-Winter Elementary

31

Oct 31

NO SCHOOL PM, Classes dismiss at 12:10

Walker-Winter Elementary