Welcome To

Edison Elementary School
Mission Statement
Students will be empowered to achieve their goals through lifelong learning and leading.
Belief Statement
We believe that all students can learn in a safe, caring, responsible, positive, and respectful environment. We also believe that parent support at home with homework and practice is important to a child's school success and that teachers' utilization of research-based teaching practices will engage all students to achieve their personal best.
Vision Statement
To empower students to be lifelong leaders and learners.
---
Education and Safety Information

Read our letter from Principal Chris Swanson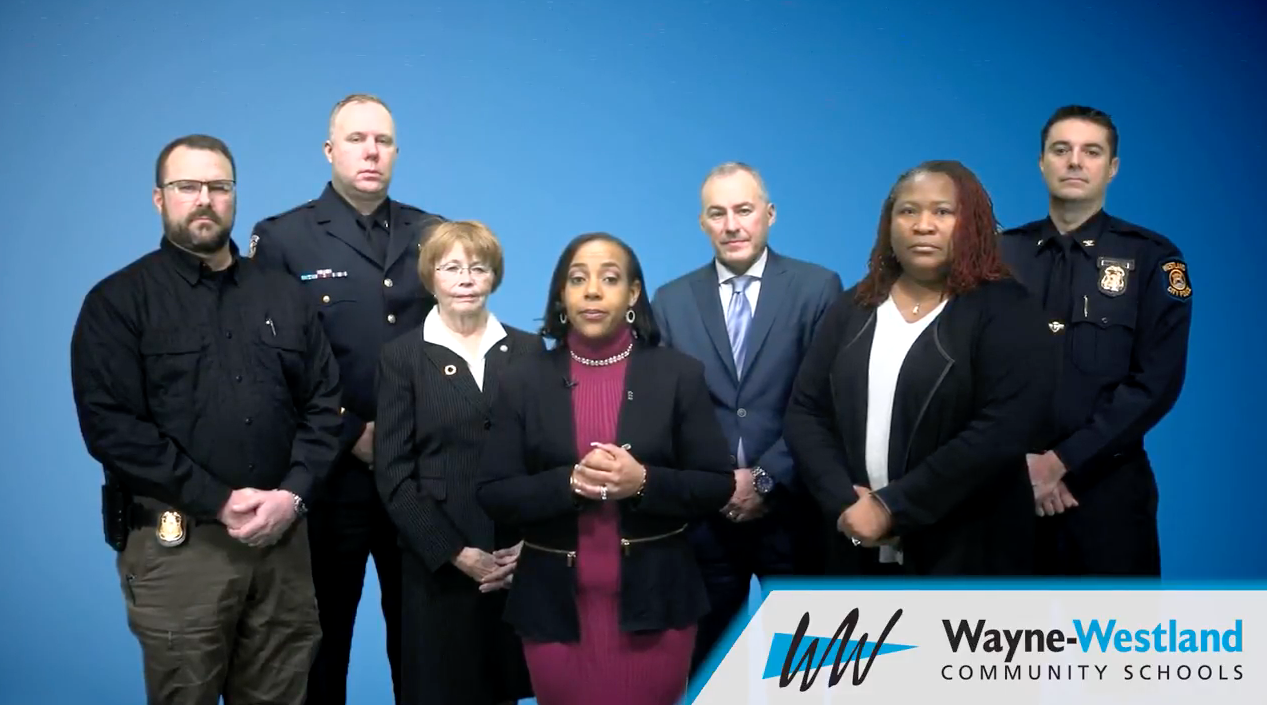 View video from superintendent Shelley Holt, Ed.D

2017-02-27 District Crisis Response
Community Meetings on School Safety
Please review the following letter from our superintendent regarding school safety and meeting times.

2-26-18 Letter from Dr. Holt
May 21, 2018
1st Graders helped plant flowers!

View all photos from this event
Our 1st graders cleaning up mulched, and planted flowers with their teachers and parent volunteers this Friday, May 18th! Great work to everyone and involved and thank you for helping out.
April 16, 2018
Martian Marathon
March 26, 2018
Judge McConnell reads to 1st graders

Judge McConnell read "Grace for President" to our 1st graders. View all the images from this event here.
Attendance Line: 734-419-2606
Student Hours: Full Day: 9:00 am - 3:50 pm
AM Half Day: 9:00 am -12:10 pm
Edison Calendar
Edison Calendar

‹

May

2018

›

S
M
T
W
T
F
S
1

May 1

M-Step Testing 3rd & 4th

Edison Elementary

This event has a Google Hangouts video call. Join: https://hangouts.google.com/hangouts/_/wwcsd.net/m-step-testing?hceid=d3djc2QubmV0X2k2dTQ0bjNhbjdxamZhcms5NGZmc250ZTY4QGdyb3VwLmNhbGVuZGFyLmdvb2dsZS5jb20.sl3a9b77vqm26mg67h29930p1k&hs=121

2

May 2

4th Grade Safeties to the Tigers' Game

Edison Elementary

This event has a Google Hangouts video call. Join: https://hangouts.google.com/hangouts/_/wwcsd.net/4th-grade?hceid=d3djc2QubmV0X2k2dTQ0bjNhbjdxamZhcms5NGZmc250ZTY4QGdyb3VwLmNhbGVuZGFyLmdvb2dsZS5jb20.ne95i8l8n7j9blsrdg78f90rek&hs=121

M-Step Testing 3rd & 4th

Edison Elementary

This event has a Google Hangouts video call. Join: https://hangouts.google.com/hangouts/_/wwcsd.net/m-step-testing?hceid=d3djc2QubmV0X2k2dTQ0bjNhbjdxamZhcms5NGZmc250ZTY4QGdyb3VwLmNhbGVuZGFyLmdvb2dsZS5jb20.sl3a9b77vqm26mg67h29930p1k&hs=121

3

May 3

Edison On the Border Fundraiser Night

Edison Elementary

This event has a Google Hangouts video call. Join: https://plus.google.com/hangouts/_/wwcsd.net/edison-on-the?hceid=d3djc2QubmV0X2k2dTQ0bjNhbjdxamZhcms5NGZmc250ZTY4QGdyb3VwLmNhbGVuZGFyLmdvb2dsZS5jb20.2dfh1mfvvh85d0f3fngps861m5&hs=121

M-Step Testing 3rd & 4th

Edison Elementary

This event has a Google Hangouts video call. Join: https://hangouts.google.com/hangouts/_/wwcsd.net/m-step-testing?hceid=d3djc2QubmV0X2k2dTQ0bjNhbjdxamZhcms5NGZmc250ZTY4QGdyb3VwLmNhbGVuZGFyLmdvb2dsZS5jb20.sl3a9b77vqm26mg67h29930p1k&hs=121

4

May 4

M-Step Testing 3rd & 4th

Edison Elementary

This event has a Google Hangouts video call. Join: https://hangouts.google.com/hangouts/_/wwcsd.net/m-step-testing?hceid=d3djc2QubmV0X2k2dTQ0bjNhbjdxamZhcms5NGZmc250ZTY4QGdyb3VwLmNhbGVuZGFyLmdvb2dsZS5jb20.sl3a9b77vqm26mg67h29930p1k&hs=121

5
6
7

May 7

M-Step Testing 3rd & 4th

Edison Elementary

This event has a Google Hangouts video call. Join: https://hangouts.google.com/hangouts/_/wwcsd.net/m-step-testing?hceid=d3djc2QubmV0X2k2dTQ0bjNhbjdxamZhcms5NGZmc250ZTY4QGdyb3VwLmNhbGVuZGFyLmdvb2dsZS5jb20.sl3a9b77vqm26mg67h29930p1k&hs=121

Educator Appreciation Week

Edison Elementary

This event has a Google Hangouts video call. Join: https://hangouts.google.com/hangouts/_/wwcsd.net/educator?hceid=d3djc2QubmV0X2k2dTQ0bjNhbjdxamZhcms5NGZmc250ZTY4QGdyb3VwLmNhbGVuZGFyLmdvb2dsZS5jb20.rvse5p6u01vsikpk60id41atv4&hs=121

8

May 8

Educator Appreciation Week

Edison Elementary

This event has a Google Hangouts video call. Join: https://hangouts.google.com/hangouts/_/wwcsd.net/educator?hceid=d3djc2QubmV0X2k2dTQ0bjNhbjdxamZhcms5NGZmc250ZTY4QGdyb3VwLmNhbGVuZGFyLmdvb2dsZS5jb20.rvse5p6u01vsikpk60id41atv4&hs=121

1st Grade to Detroit Zoo

Edison Elementary

This event has a Google Hangouts video call. Join: https://hangouts.google.com/hangouts/_/wwcsd.net/1st-grade-to?hceid=d3djc2QubmV0X2k2dTQ0bjNhbjdxamZhcms5NGZmc250ZTY4QGdyb3VwLmNhbGVuZGFyLmdvb2dsZS5jb20.vui254t697d94o2h1u2okqj3l4&hs=121

M-Step Testing 3rd & 4th

Edison Elementary

This event has a Google Hangouts video call. Join: https://hangouts.google.com/hangouts/_/wwcsd.net/m-step-testing?hceid=d3djc2QubmV0X2k2dTQ0bjNhbjdxamZhcms5NGZmc250ZTY4QGdyb3VwLmNhbGVuZGFyLmdvb2dsZS5jb20.sl3a9b77vqm26mg67h29930p1k&hs=121

9

May 9

Educator Appreciation Week

Edison Elementary

This event has a Google Hangouts video call. Join: https://hangouts.google.com/hangouts/_/wwcsd.net/educator?hceid=d3djc2QubmV0X2k2dTQ0bjNhbjdxamZhcms5NGZmc250ZTY4QGdyb3VwLmNhbGVuZGFyLmdvb2dsZS5jb20.rvse5p6u01vsikpk60id41atv4&hs=121

M-Step Testing 3rd & 4th

Edison Elementary

This event has a Google Hangouts video call. Join: https://hangouts.google.com/hangouts/_/wwcsd.net/m-step-testing?hceid=d3djc2QubmV0X2k2dTQ0bjNhbjdxamZhcms5NGZmc250ZTY4QGdyb3VwLmNhbGVuZGFyLmdvb2dsZS5jb20.sl3a9b77vqm26mg67h29930p1k&hs=121

Popcorn Day

Edison Elementary

This event has a Google Hangouts video call. Join: https://plus.google.com/hangouts/_/wwcsd.net/popcorn-day?hceid=d3djc2QubmV0X2k2dTQ0bjNhbjdxamZhcms5NGZmc250ZTY4QGdyb3VwLmNhbGVuZGFyLmdvb2dsZS5jb20.bkpdkhlfte0rj0ui76e9mag3i0&hs=121

10

May 10

Educator Appreciation Week

Edison Elementary

This event has a Google Hangouts video call. Join: https://hangouts.google.com/hangouts/_/wwcsd.net/educator?hceid=d3djc2QubmV0X2k2dTQ0bjNhbjdxamZhcms5NGZmc250ZTY4QGdyb3VwLmNhbGVuZGFyLmdvb2dsZS5jb20.rvse5p6u01vsikpk60id41atv4&hs=121

M-Step Testing 3rd & 4th

Edison Elementary

This event has a Google Hangouts video call. Join: https://hangouts.google.com/hangouts/_/wwcsd.net/m-step-testing?hceid=d3djc2QubmV0X2k2dTQ0bjNhbjdxamZhcms5NGZmc250ZTY4QGdyb3VwLmNhbGVuZGFyLmdvb2dsZS5jb20.sl3a9b77vqm26mg67h29930p1k&hs=121

11

May 11

Educator Appreciation Week

Edison Elementary

This event has a Google Hangouts video call. Join: https://hangouts.google.com/hangouts/_/wwcsd.net/educator?hceid=d3djc2QubmV0X2k2dTQ0bjNhbjdxamZhcms5NGZmc250ZTY4QGdyb3VwLmNhbGVuZGFyLmdvb2dsZS5jb20.rvse5p6u01vsikpk60id41atv4&hs=121

M-Step Testing 3rd & 4th

Edison Elementary

This event has a Google Hangouts video call. Join: https://hangouts.google.com/hangouts/_/wwcsd.net/m-step-testing?hceid=d3djc2QubmV0X2k2dTQ0bjNhbjdxamZhcms5NGZmc250ZTY4QGdyb3VwLmNhbGVuZGFyLmdvb2dsZS5jb20.sl3a9b77vqm26mg67h29930p1k&hs=121

12
13
14

May 14

Scholastic Book Fair - BOGO

Edison Elementary

This event has a Google Hangouts video call. Join: https://plus.google.com/hangouts/_/wwcsd.net/scholastic-book?hceid=d3djc2QubmV0X2k2dTQ0bjNhbjdxamZhcms5NGZmc250ZTY4QGdyb3VwLmNhbGVuZGFyLmdvb2dsZS5jb20.fj6nsuevhl4e1l5vjvc58qhqgc&hs=121

15

May 15

Scholastic Book Fair - BOGO

Edison Elementary

This event has a Google Hangouts video call. Join: https://plus.google.com/hangouts/_/wwcsd.net/scholastic-book?hceid=d3djc2QubmV0X2k2dTQ0bjNhbjdxamZhcms5NGZmc250ZTY4QGdyb3VwLmNhbGVuZGFyLmdvb2dsZS5jb20.fj6nsuevhl4e1l5vjvc58qhqgc&hs=121

M-Step Testing 3rd & 4th

Edison Elementary

This event has a Google Hangouts video call. Join: https://hangouts.google.com/hangouts/_/wwcsd.net/m-step-testing?hceid=d3djc2QubmV0X2k2dTQ0bjNhbjdxamZhcms5NGZmc250ZTY4QGdyb3VwLmNhbGVuZGFyLmdvb2dsZS5jb20.sl3a9b77vqm26mg67h29930p1k&hs=121

16

May 16

Scholastic Book Fair - BOGO

Edison Elementary

This event has a Google Hangouts video call. Join: https://plus.google.com/hangouts/_/wwcsd.net/scholastic-book?hceid=d3djc2QubmV0X2k2dTQ0bjNhbjdxamZhcms5NGZmc250ZTY4QGdyb3VwLmNhbGVuZGFyLmdvb2dsZS5jb20.fj6nsuevhl4e1l5vjvc58qhqgc&hs=121

4:00 PM to 5:00 PM

PTO Meeting

Edison Library

Edison Elementary

This event has a Google Hangouts video call. Join: https://plus.google.com/hangouts/_/wwcsd.net/pto-meeting?hceid=d3djc2QubmV0X2k2dTQ0bjNhbjdxamZhcms5NGZmc250ZTY4QGdyb3VwLmNhbGVuZGFyLmdvb2dsZS5jb20.061sqq9a28uchje4jslnqgt8n9&hs=121

17

May 17

Scholastic Book Fair - BOGO

Edison Elementary

This event has a Google Hangouts video call. Join: https://plus.google.com/hangouts/_/wwcsd.net/scholastic-book?hceid=d3djc2QubmV0X2k2dTQ0bjNhbjdxamZhcms5NGZmc250ZTY4QGdyb3VwLmNhbGVuZGFyLmdvb2dsZS5jb20.fj6nsuevhl4e1l5vjvc58qhqgc&hs=121

M-Step Testing 3rd & 4th

Edison Elementary

This event has a Google Hangouts video call. Join: https://hangouts.google.com/hangouts/_/wwcsd.net/m-step-testing?hceid=d3djc2QubmV0X2k2dTQ0bjNhbjdxamZhcms5NGZmc250ZTY4QGdyb3VwLmNhbGVuZGFyLmdvb2dsZS5jb20.sl3a9b77vqm26mg67h29930p1k&hs=121

18

May 18

Scholastic Book Fair - BOGO

Edison Elementary

This event has a Google Hangouts video call. Join: https://plus.google.com/hangouts/_/wwcsd.net/scholastic-book?hceid=d3djc2QubmV0X2k2dTQ0bjNhbjdxamZhcms5NGZmc250ZTY4QGdyb3VwLmNhbGVuZGFyLmdvb2dsZS5jb20.fj6nsuevhl4e1l5vjvc58qhqgc&hs=121

M-Step Testing 3rd & 4th

Edison Elementary

This event has a Google Hangouts video call. Join: https://hangouts.google.com/hangouts/_/wwcsd.net/m-step-testing?hceid=d3djc2QubmV0X2k2dTQ0bjNhbjdxamZhcms5NGZmc250ZTY4QGdyb3VwLmNhbGVuZGFyLmdvb2dsZS5jb20.sl3a9b77vqm26mg67h29930p1k&hs=121

6:00 PM to 8:00 PM

Family Fun Night

Edison Elementary

This event has a Google Hangouts video call. Join: https://plus.google.com/hangouts/_/wwcsd.net/family-fun?hceid=d3djc2QubmV0X2k2dTQ0bjNhbjdxamZhcms5NGZmc250ZTY4QGdyb3VwLmNhbGVuZGFyLmdvb2dsZS5jb20.1l5d9p0mifb75o685f0hq6626t&hs=121

19
20
21
22
23

May 23

5:30 PM to 7:00 PM

4th Grade Transition Night to Marshall

Marshall Upper Elementary 35100 Bayview St

Edison Elementary

This event has a Google Hangouts video call. Join: https://hangouts.google.com/hangouts/_/wwcsd.net/4th-grade?hceid=d3djc2QubmV0X2k2dTQ0bjNhbjdxamZhcms5NGZmc250ZTY4QGdyb3VwLmNhbGVuZGFyLmdvb2dsZS5jb20.306korvdusedbm3m9audhao400&hs=121

24

May 24

Field Day

Edison Elementary

This event has a Google Hangouts video call. Join: https://plus.google.com/hangouts/_/wwcsd.net/field-day?hceid=d3djc2QubmV0X2k2dTQ0bjNhbjdxamZhcms5NGZmc250ZTY4QGdyb3VwLmNhbGVuZGFyLmdvb2dsZS5jb20.9uc1tjks5vejgj9cpkqeuch2o0&hs=121

25

May 25

1/2 Day for Students; 12:10 Dismissal

Edison Elementary

This event has a Google Hangouts video call. Join: https://plus.google.com/hangouts/_/wwcsd.net/1-2-day-for?hceid=d3djc2QubmV0X2k2dTQ0bjNhbjdxamZhcms5NGZmc250ZTY4QGdyb3VwLmNhbGVuZGFyLmdvb2dsZS5jb20.vun69doud2u1ed20qu0lsqjva8&hs=121

26
27
28

May 28

No School for Students

Edison Elementary

This event has a Google Hangouts video call. Join: https://plus.google.com/hangouts/_/wwcsd.net/no-school-for?hceid=d3djc2QubmV0X2k2dTQ0bjNhbjdxamZhcms5NGZmc250ZTY4QGdyb3VwLmNhbGVuZGFyLmdvb2dsZS5jb20.6gbvn8uuvmkoqhm54kcpm6coa0&hs=121

29
30

May 30

Kindergarten Field Trip - Domino Farms

Edison Elementary

This event has a Google Hangouts video call. Join: https://hangouts.google.com/hangouts/_/wwcsd.net/kindergarten?hceid=d3djc2QubmV0X2k2dTQ0bjNhbjdxamZhcms5NGZmc250ZTY4QGdyb3VwLmNhbGVuZGFyLmdvb2dsZS5jb20.77c9hbbg0pli76kf7cakkqn2dk&hs=121

31

May 31

Field Day - Rain Date

Edison Elementary

This event has a Google Hangouts video call. Join: https://plus.google.com/hangouts/_/wwcsd.net/field-day-rain?hceid=d3djc2QubmV0X2k2dTQ0bjNhbjdxamZhcms5NGZmc250ZTY4QGdyb3VwLmNhbGVuZGFyLmdvb2dsZS5jb20.f8ur28l1ks2rq1g224752qckk0&hs=121