Welcome To

Marshall Upper Elementary School
Marshall Web Resources

AR Parent Component


MI Dept of Education


MI Electronic Library


Wayne County RESA


Learn at Marshall
Mission Statement & Points of Pride
Mission Statement
My best effort used with others empowers success.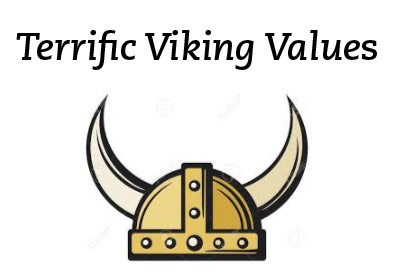 Trustworthiness: Able to be trusted
Empathy: The ability to understand and share the feelings of another person
Responsibility: Following through on what is expected of you
Respect: Valuing each other's ideas and opinions
Initiative: To do something without being asked because it needs to be done
Fairness: Everyone getting what they need in order to be successful
Integrity: To act according to a sense of what's right and what's wrong
Cooperation: To work together toward a common goal or purpose
Points of Pride
Home of the district spelling bee 4 years in a row
6th Grade Leadership Program - Tomorrow's Leaders
Girls on the Run and STRIDE programs
3 Family Outreach Nights - Reading/Math/Social Emotional
Raised $1171.23 for the ASPCA in Texas (Flood Relief)
Home of WWCSD TAG Program
Decreased suspensions 45% over the past 3 years
Monthly Town Hall Meetings
Building-Wide use of Google Classroom/Blended Learning
5th and 6th grade learn coding via Code.org
The Cost of Educating a Student
Tuesday, October 23rd - State of the District
We're having our annual State of the District event on October 23, 2018 at John Glenn Auditorium (36105 Marquette, Westland MI) at 6:30pm (doors open at 6pm for gallery walk)
Friday, October 26th - 8th Annual Spooktacular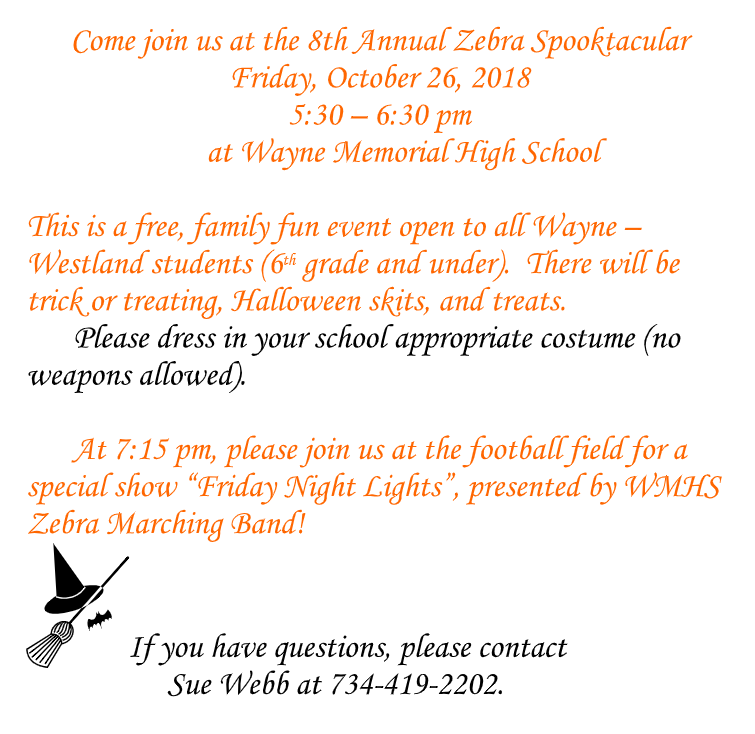 This event takes place at
Wayne Memorial High School
3001 Fourth Street
Wayne, MI 48184
Phone: 734-419-2200
What time? 5:30 pm to 6:30 pm
This is a FREE family fun event open to all Wayne-Westland students (6th Grade and under). There will be trick or treating, Halloween skits, and treats. Dress appropriately!
At 7:15 pm, please join us at the football field for a special show "Friday Night Lights," presented by WMHS Zebra Marching Band!
October 1, 2018
FREE Breakfast and Lunch for ALL K-12 Students!
Great News- FREE Breakfast and Lunch for ALL K-12 students!
Beginning Oct. 1, 2018, Wayne-Westland Community Schools will offer FREE breakfast and lunch to all K-12 students.
Attendance Line: 734-419-2290
Student Hours: Full Day: 8:30 am - 3:20 pm
AM Half Day: 8:30 am - 11:40 am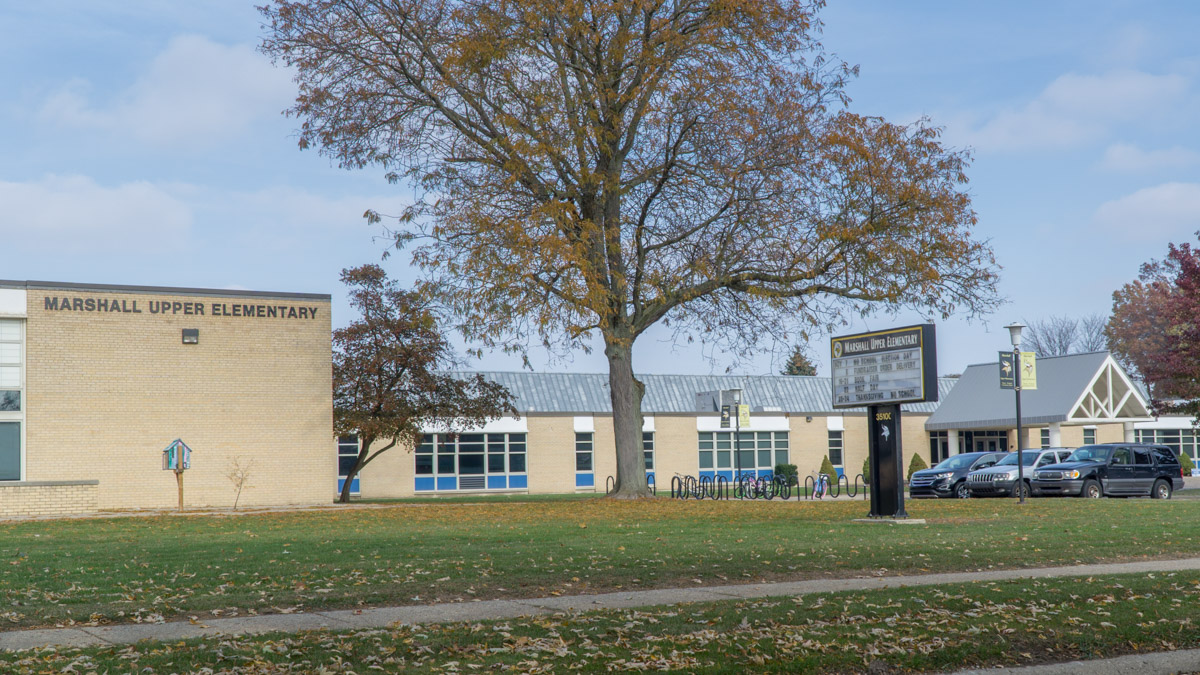 Marshall Calendar
Marshall Calendar

‹

October

2018

›

S
M
T
W
T
F
S
1
2
3
4

Oct 4

6:00 PM to 7:00 PM

BOND Community Advisory Team Meeting

Marshall Upper Elementary

Our Community Advisory team includes:

1 parent from each school
1 staff member from each school
1 union rep from each school

Meetings will take place at the Dyer Senior Center, 36745 Marquette St, Westland, MI 48185

We hope to see you there and hear your thoughts!

5
6
7
8
9

Oct 9

6:00 PM to 7:00 PM

Bond Community Forum

Marshall Upper Elementary

Please come and share your thoughts as we discuss the upcoming bond.

David Hicks Elementary
100 Helen
Inkster, MI 48141

10
11

Oct 11

6:00 PM to 7:00 PM

Bond Community Forum

Marshall Upper Elementary

Please come and share your thoughts as we discuss the upcoming bond.

Stevenson Middle School
38501 Palmer
Westland, MI 48186

12
13
14
15
16
17
18

Oct 18

6:00 PM to 7:00 PM

BOND Community Advisory Team Meeting

Marshall Upper Elementary

Our Community Advisory team includes:

1 parent from each school
1 staff member from each school
1 union rep from each school

Meetings will take place at the Dyer Senior Center, 36745 Marquette St, Westland, MI 48185

We hope to see you there and hear your thoughts!

19
20
21
22
23

Oct 23

6:30 PM to 8:30 PM

State of the District

John Glenn High School Auditorium

Marshall Upper Elementary

Please join Dr. Holt and the Executive Cabinet as they present the 2018 State of the District Address at John Glenn Auditorium from 6:30 pm to 8:30 pm.

24
25
26

Oct 26

5:30 PM to 6:30 PM

Spooktakular

Marshall Upper Elementary

This event takes place at Wayne Memorial High School from 5:30pm to 6:30pm

This is a FREE family fun event open to all Wayne-Westland students (6th Grade and under). There will be trick or treating, Halloween skits, and treats. Dress appropriately!

At 7:15pm, please join us at the football field for a special show "Friday Night Lights," presented by WMHS Zebra Marching Band!

27
28
29
30
31