Welcome To

Adams Upper Elementary
School Supply List
**This is a general supply list. Specific teachers may have other needs based on their instructional activities.
Required Supplies
Lined filler paper
5 - composition or spiral bound notebooks
5 - two pocket folders
Pencils
Highlighters
Scissors
Glue sticks
Optional Classroom Donations:
Clorox Wipes
Kleenex
Hand sanitizer
Mission Statement / Points of Pride
Mission Statement
Love Lead Learn
Points of Pride
Over 150 students met NWEA RIT goal in all 4 areas
Two 5th Grade classes presented on historical figures to their families and distinguished guests
30 students put together and presented in technology showcase to their families and distinguished guests
Student Lighthouse Team members presented about Adams to 4th graders and their parents at our 4th grade transition night
Adams Welcome Leaders routinely give tours to new students, parents, families, and guests
22 talented students performed in the annual Adams has Talent Show in front of families, guests and the entire school
About 180 6th Graders received awards at our 6th Grade Awards Ceremony
Post Secondary Program runs a weekly coffee shop for staff members
We have the Beaumont Clinic housed at Adams which supports our students and families
We have the Family Resource Center housed at Adams which supports our students and families
Students get many opportunities for experiential learning through field trips to places such as Greenfield Village, the Detroit Zoo, Comerica Park, the Henry Ford and theater performances.
We have a dedicated staff who believe in doing what is best for students.
The Cost of Educating a Student
Camp Candy Fundraiser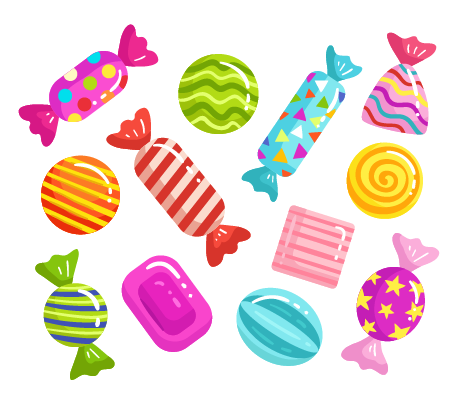 Learn more about our Camp Candy Fundraiser


Camp 2018-19 Money Collecting/Candy Schedule
We will be participating in a Candy Fundraiser to help raise money for the cost of 5th-grade camp.
Tuesday, October 23rd - State of the District
We're having our annual State of the District event on October 23, 2018 at John Glenn Auditorium (36105 Marquette, Westland MI) at 6:30pm (doors open at 6pm for gallery walk)
Friday, October 26th - 8th Annual Spooktacular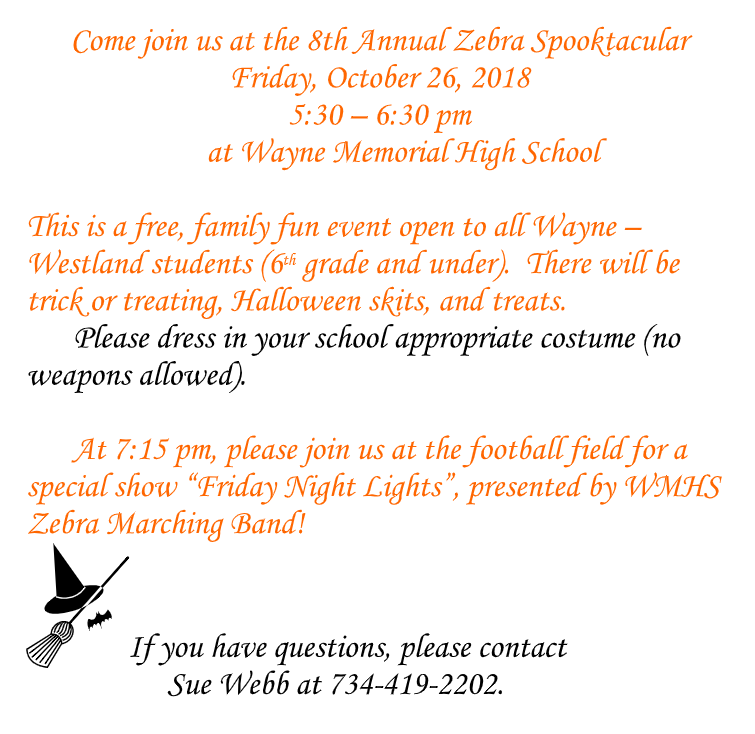 This event takes place at
Wayne Memorial High School
3001 Fourth Street
Wayne, MI 48184
Phone: 734-419-2200
What time? 5:30 pm to 6:30 pm
This is a FREE family fun event open to all Wayne-Westland students (6th Grade and under). There will be trick or treating, Halloween skits, and treats. Dress appropriately!
At 7:15 pm, please join us at the football field for a special show "Friday Night Lights," presented by WMHS Zebra Marching Band!
October 1, 2018
FREE Breakfast and Lunch for ALL K-12 Students!
Great News- FREE Breakfast and Lunch for ALL K-12 students!
Beginning Oct. 1, 2018, Wayne-Westland Community Schools will offer FREE breakfast and lunch to all K-12 students.
August 30, 2018
First Day of School Pictures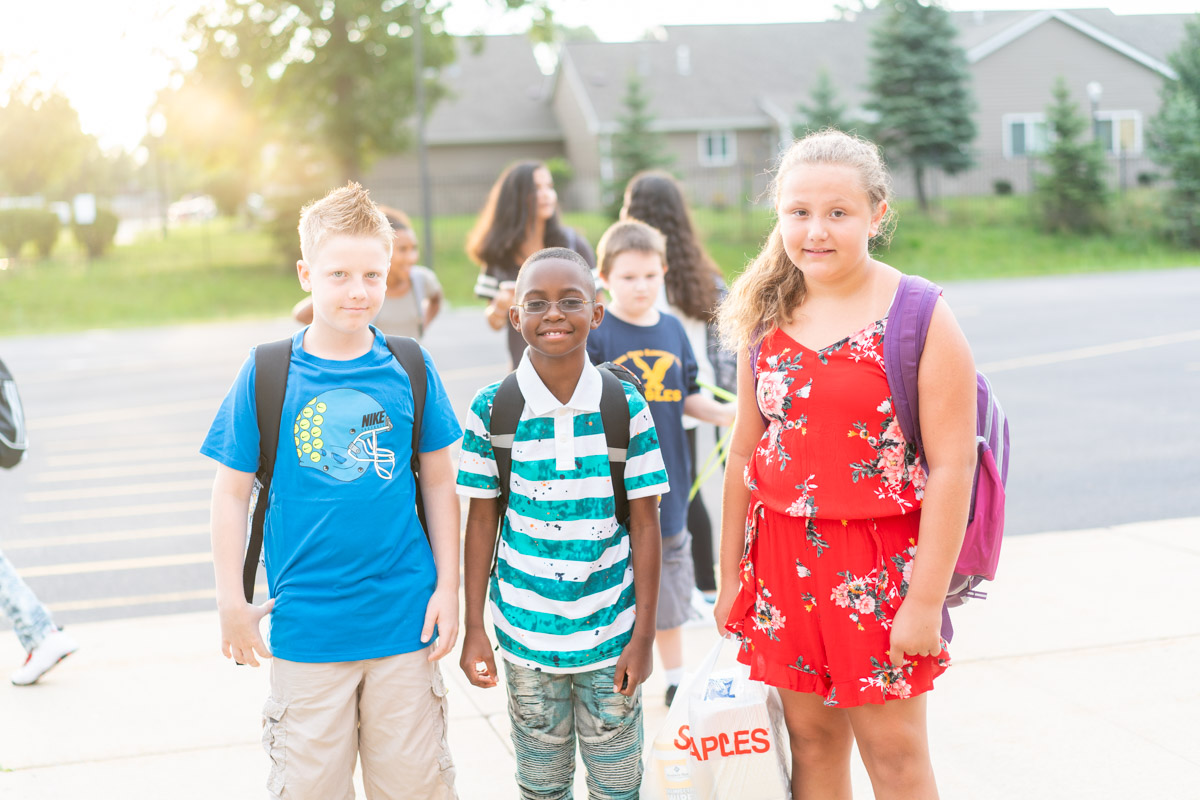 Our first day of school was so much fun! Check out more images of our new and returning students walk the halls again together ans have breakfast.
Attendance Line: 734-419-2399
Student Hours: Full Day: 8:00 am - 2:50 pm
AM Half Day: 8:00 am - 11:10 am
Adams Calendar
Adams Calendar

‹

October

2018

›

S
M
T
W
T
F
S
1
2
3
4

Oct 4

6:00 PM to 7:00 PM

BOND Community Advisory Team Meeting

Adams Upper Elementary

Our Community Advisory team includes:

1 parent from each school
1 staff member from each school
1 union rep from each school

Meetings will take place at the Dyer Senior Center, 36745 Marquette St, Westland, MI 48185

We hope to see you there and hear your thoughts!

5
6
7
8
9

Oct 9

6:00 PM to 7:00 PM

Bond Community Forum

Adams Upper Elementary

Please come and share your thoughts as we discuss the upcoming bond.

David Hicks Elementary
100 Helen
Inkster, MI 48141

10
11

Oct 11

6:00 PM to 7:00 PM

Bond Community Forum

Adams Upper Elementary

Please come and share your thoughts as we discuss the upcoming bond.

Stevenson Middle School
38501 Palmer
Westland, MI 48186

12
13
14
15
16
17
18

Oct 18

6:00 PM to 7:00 PM

BOND Community Advisory Team Meeting

Adams Upper Elementary

Our Community Advisory team includes:

1 parent from each school
1 staff member from each school
1 union rep from each school

Meetings will take place at the Dyer Senior Center, 36745 Marquette St, Westland, MI 48185

We hope to see you there and hear your thoughts!

19
20
21
22
23

Oct 23

6:30 PM to 8:30 PM

State of the District

John Glenn High School Auditorium

Adams Upper Elementary

Please join Dr. Holt and the Executive Cabinet as they present the 2018 State of the District Address at John Glenn Auditorium from 6:30 pm to 8:30 pm.

24
25
26

Oct 26

5:30 PM to 6:30 PM

Spooktakular

Adams Upper Elementary

This event takes place at Wayne Memorial High School from 5:30pm to 6:30pm

This is a FREE family fun event open to all Wayne-Westland students (6th Grade and under). There will be trick or treating, Halloween skits, and treats. Dress appropriately!

At 7:15pm, please join us at the football field for a special show "Friday Night Lights," presented by WMHS Zebra Marching Band!

27
28
29
30
31