Program Information
The Champions Program is a before and after school childcare program offered at all of the K-6 buildings in the Wayne-Westland Community School District. We provide structured childcare services before and after school, during school breaks, snow days and a summer camp program!
Champions before and aftercare makes the hours before and after school fun and engaging. Kids get everything they need to start the school day energized and end the school day, ready to go home for some quality family time! Our fun and varied program is made up of various hands-on activities that give your child the opportunity to continue learning before and after school.
And remember, our program is open to all families—even those who don't attend Champions during the rest of the year. So tell a friend or family member. You can feel confident knowing Champions has been recognized as a high-quality provider by AdvancED, earning us corporation accreditation.
Tuition Rates
| | | | | |
| --- | --- | --- | --- | --- |
| # of Days | 1-2 Days | 3 days | 4 days | 5 days |
| Before School | $24 | $33 | $37 | $45 |
| After School | $27 | $39 | $45 | $54 |
Champions Main Office
John Marshall Upper Elementary School
Area Manager Cassie Nickels
35100 Bayview, Westland, MI 48185
Phone: (734) 776-8983
cnickels@klcorp.com
Hours
Before School: 6:45 am – School starts
After School: School dismissal – 6:30 pm
We offer a 10% sibling discount!
Sign up today on the Champions website.
Call 1-800-246-2154 or 734-776-8983 for more information.
A Day At Champions
Our Early Foundations® and School-Age Program curriculum are based on the latest research and best practices in early childhood education, giving young learners a great head start with a solid educational and life skills foundation. Our programs are built on a comprehensive scope and sequence of 120 learning objectives, mapped across six learning domains, and aligned with state early learning standards and K-12 expectations. Our programs are designed to develop the whole child through activities, appropriate for the specific ages of the children.
How to Enroll
Enrolling in Champions Extended Learning programs is effortless with our Online Account Management system. Our online system provides 24-hour access to your account allowing you to manage payments and student schedules, monitor program information, and much more.
Register to obtain your online account. You will need a computer with an internet connection and an email address.
Go to the Champions website and click on Account Login in the upper right corner.
Click Create an Account and follow the provided instructions. This should take about 5 - 10 minutes to complete. (If your browser is having trouble, check page compatibility settings in tool menu)
Once you complete the registration, a system generated e-mail will be sent to your email account. This email will contain your temporary password.
All of these programs are offered by KinderCare Education in cooperation with the Wayne-Westland Community School District!
Champions Contact Information for all schools
Cassie Nickels - Senior Area Manager - 734-776-8983
Champions Customer Care - 800-246-2154
Visit www.discoverchampions.com for a Live Chat with a Family Support Representative
We ask that you be mindful that these are cell phones and are with us during the nights and weekends. We would love to best take care of you during all hours but also have families of our own at home to take care of and spend time with. Please understand that between 7 pm and 6 am we will only listen to a VM and return a call if it is a true emergency. We also do not answer on the weekends so if you must, just call and leave a message and we will return your call on the next working day.
Additionally, please leave a message if you need a return call. We hear from many of you that you have called but are not leaving messages and you are frustrated you aren't receiving a return call. We cannot call back if we do not know the issue to help you solve so please, leave a detailed message and we will get back to you as soon as possible.
Wayne-Westland Community Schools Champions Programs.
Here is also a list of the phone numbers to reach your local Site Directors and Assistant
Teachers:
Edison - 734-722-7319
Elliott - 734-326-0986
Hamilton - 734-595-3424
Schweitzer - 734-326-0980
Stottlemyer - 734-512-8571
Wildwood - 734-983-8745
Graham - 734-502-4011
Hoover - 734-589-7048
Walker - 734-467-1872
Marshall - 734-620-1380
Roosevelt – 734-516-8861
Adams – 734-516-6482

Please note: The site numbers will not be answered outside of program hours as these phones are left at the schools. Please only call during AM and PM programming hours.
2018-19 Fall Registration now open!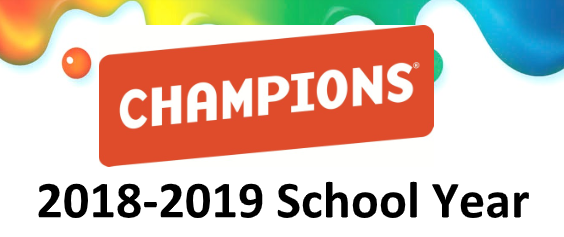 Read our 2018-19 Flyer
Enroll either online or at your site with your Director!
Visit www.discoverchampions.com and enroll for FALL 2018-19 Before and After School Care!!

Reminder: We are OPEN on School Snow Days!!!
Locations and Times: Same as Above!!
SCHEDULING & BILLING REMINDERS
Wednesday is the last day to pay this week's tuition to avoid a late fee ($10) that will be assessed on Thursday.
If account is "pending disenrollment", re-enroll by Friday to avoid disruption and $20 re-enrollment fee that starts Saturday.
Auto-disenrollment will happen if tuition is not paid in full for two weeks.
Pay tuition with debit, credit, bank accounts or electronic checks.
Children must be enrolled online to attend Champions to ensure we have the information to keep them safe, including sign-in/sign-out codes, medical history, and emergency contacts.
Please use a computer to manage your account, including schedule changes and payments.
Questions?
Call: Area Manager Cassie Nickels at 734-776-8983 Monday - Friday 8:30am - 5:30pm EST
Email: cnickels@discoverchampions.com
Customer Care: 1-800-246-2154 M–F, 6am–5pm PST
Live Chat: www.DiscoverChampions.com/about/contact-us. Identify yourself as a parent, and click "Start Chat" during M–F, 7am–4pm PST